While handing out food to the homeless, one woman shyly told me she had "a girl problem."
What can God do in your life with one Bible verse a day?
Subscribe to Aleteia's new service and bring Scripture into your morning:
Just one verse each day.
Click to bring God's word to your inbox
It began with a sandwich. That's how I met Sabina and Marek.
It was the first Wednesday outreach event for me of many to come. I had heard the pope's call to help the homeless, and this was my answer. I was nervous; I had no idea how to talk to the people we were supposed to greet. I had no idea how to start a conversation, how to approach them, what to ask, or what not to ask. Luckily we had sandwiches with us. And a sandwich helped me by simply giving me something to do and say:
"Excuse me, would you like a sandwich?" This sentence soon became my standard opening line on Wednesday nights. The gateway to conversation.
That was the first time I reached out to the homeless from Sant'Egidio. The Community of Sant'Egidio is a worldwide movement of lay people that began in Rome soon following the Second Vatican Council. It helps all those excluded: the homeless, the refugees, the elderly; it acts for peace and ecumenical dialogue.
Who would have thought that only two months later, our tiny group would turn into 30 people giving out soup, tea and warm clothing to around 70 homeless and nearly homeless? Every week we went back, we assured them that next week we would bring more. But the most important thing hasn't changed: we offer some food and we talk. Sometimes it is only a few sentences, sometimes it's a long discussion about Tolkien or about life in Sweden. Because the homeless I met don't just carry single backpacks full of their personal treasures, but a full set of adventurers, travels, experiences, tragedies, and other stories. Often with no one to listen to them until my group shows up.
An unexpected "girl problem"
I met Sabina and Marek by the entry to a shopping mall. They had fit their meager belongings in just a few plastic bags. It was dark, and no one seemed to notice them in the crowd of shoppers. In the beginning they didn't want the sandwiches we offered them. They said they could make do. He explained he doesn't drink alcohol, so he can sleep in the shelter, in the warmth. She earns pennies distributing newspapers at bus stops, and she pockets just enough for food. But not for an apartment, bills, or warm clothes. Sabina says she owes everything to Marek. He took care of her when she was at the bottom, and helped her stop drinking.
So, instead, we asked what they did need: warm socks, undergarments, a jacket? "I have one thing, but I won't even say it, it's a silly girl problem," says Sabina. Curious, I took her aside, assuring her that there are no silly problems and that I would try to do my best to help.
Sabina told me that the couple planned to get married soon, during the holidays. They had been together for a long time, and felt like they had been waiting too long to marry. I was moved by her words; it had been a long time since I'd met someone who, without any embarrassment, spoke of a loved one with such tenderness. "You know, there is nothing worse than being alone," she told me. "Together we get up on our feet." There was nothing silly about their love, or their desire to marry.
The "silly girl problem" Sabina was embarrassed to talk about turned out to be her wedding shoes.
Shoes for the bride
What do the wedding preparations look like for a homeless woman? The essentials are the same. She bought an inexpensive white dress at a thrift store, she picked up the legal paperwork required, and reserved the church. But she couldn't find shoes: White ones, ideally, in a size 7 with a strap to help keep them on her feet, which are somewhat deformed from many days and nights living out in the cold. At the time she told me that she only had one pair of boots, the ones on her feet, which were falling apart, and she wanted to look nice for her wedding.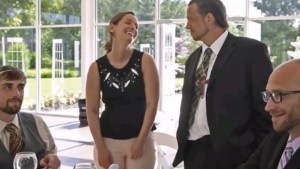 Read more:
Bride donates her $30,000 reception to the homeless
I promised her shoes. But, having given my own wedding shoes away some time ago, first I went to my closest friends. Alas, they all had different shoe sizes. So I turned to Facebook. And I was stunned by the generosity we found there. Within one hour we had not only shoes, but also a veil, a cardigan, a bouquet, pantyhose, lingerie, and a shirt and tie for Marek. A hairdresser, a beautician, a manicure specialist, a florist and a photographer also contacted me and offered their services. We started receiving good wishes and prayers for the Bride and Groom from all around the world. I cried reading the incoming messages.
The invisible homeless
Visiting the Sant'Egidio community filled a hole in my life. During the World Youth Days, Pope Francis spoke, telling young people to get to work, and we listened. With a group of friends we eventually brought the Sant'Egidio community to Kraków. We weren't specialists, social workers, or organizers for shelters or convents; we were regular people. People who realized that the poor and homeless in Kraków, like in any other place in the world, are an enormous sea of need. And in that sea every little lifeboat makes a difference. We wanted to be such a lifeboat.
I began to see people differently. Literally, because the homeless are difficult to see. They prefer to be invisible; they imitate normal life as well as they can, they want to look like everyone else, at all cost to not be different. Especially now, in the winter, embarrassed by their circumstance they can camouflage themselves very well.
For example, a man reading a newspaper with great interest at the bus station looks like at any moment he might look at his watch, get up and go to the bus. But in reality he is not in a hurry, because he has nowhere to go. It's enough to take a look at his torn backpack shoved in the corner, his shoes falling apart, to notice the old date on the front page of the newspaper. He has probably been sitting here for the last few hours, not bothered by security officers, who have no heart to throw him out into the cold.
The same situation can be found by the entrance to the shopping center. A man with an old ruffled book or a woman shoving a sweater with difficulty into an overfilled shopping bag will not leave till the evening. They pretend to make calls from broken telephones, waiting for someone indefinitely. They want the warmth, but not only the type that is coming from the heaters.
I met with Sabina a few days after our first meeting. She tried on the shoes; they were perfect. Overwhelmed by the generosity of others she couldn't utter a word and just hugged me. And in that moment, she was not invisible or homeless. Just a bride, feeling overwhelmed with gratitude, love and excitement for her big day. I know it will be a beautiful wedding.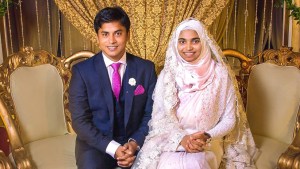 Read more:
This bride went without jewelry or makeup for all the right reasons