Keep these tips in mind at the start and it will help avoid problems later on.
Childcare is a bit of an issue these days, especially in families where both parents work. Not only is it expensive, it's not always available when you need it. This can often cause problems for moms and dads who are practically tripping over themselves, running from kindergarten to work while also trying to keep up with those endless household chores. It's also really stressful for them to juggle sick kids when they've got deadlines to meet and important work appointments on the same day; it's no wonder they might want to pull their hair out. This is where a grandparent might be asked to step in and lend a helping hand, if they're close by.
It's a great opportunity for the older generation to help out their own children, while also getting to see their grandchildren grow, and being able to form a close bond with them. However, it's one thing being there in case of emergency, and another helping out on a regular basis: picking up the grandkids every day from school, or being a full-on babysitter for a tiny tot. Christiane Behaghel, a mother, grandmother, and marital counselor, offers a bit of useful advice to consider before saying "yes" to becoming a slightly older version of Mary Poppins.
What to consider before being your grandchildren's babysitter
Christiane Behaghel: In my opinion, there are four conditions:
The grandparents must be in good health. Looking after small children is easier when we're young, but it gets more tiring with age, and even more so when it's all day long, five days a week. Young parents must understand that you don't have the same health at 69 as you did at 29. For example, bath time can be pretty tiring and tough on your back. Also, a big factor is where the grandparent is looking after the child: being in a house with a secure yard, where the kids can play freely, is not the same as when you're looking after kids in a city apartment.
Both grandparents should agree. Sometimes grandma is game but grandad doesn't quite feel the same, or vice versa. They might feel bad saying that they had different plans: volunteer work for their favorite cause, travel, gardening, or even just reading.
Always have a plan B. Grandparents should always warn their son or daughter in advance, by letting them know they should have a contingency plan in case grandmother or grandfather is not available. Age may bring more hospital appointments or a travel opportunity, or there may be another elderly relative who needs looking after. Having lived your life with limitations due to work and child raising, it's nice to have a bit of flexibility in your later years.
Determine the length of time the grandparents will be helping right from the start: If they are prepared to help out only on certain days, or only for a certain number of weeks or months, that should be clear from the start. It is important for the parents to appreciate how blessed they are to have this help, but they can't presume it will be never-ending.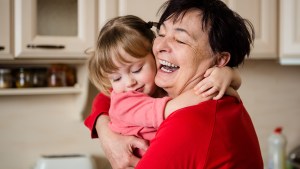 Read more:
Kids need to spend time with their grandparents … for humanity's sake
What is a grandparent's role with their grandchildren?
Christiane Behaghel: As they will see a lot of their grandchildren, they will know them very well. They may feel they have some authority over them, wanting to give their opinion and find solutions, without really considering the opinion of the parents. I see the grandparents' role like a relay race, handing over the baton at the end of the day.
While grandparents are looking after their grandchildren, they are the responsible party. When they hand over the kids, they hand over that responsibility. What would be useful is sharing observations with the parents to help them in their role as educators, or offering advice, such as suggesting a doctor's appointment if the child has a fever, etc.
What relationship should babysitting grandparents have with their own adult children?
Christiane Behaghel: Grandma and grandpa can take "orders," but I see it more like receiving practical instructions, such as, "Give them some fruit at snack time." They'll try hard to follow the indications without giving in to their own ideas when they disagree. However, this can sometimes cause a few problems; imagine if the parents want their kids to go to the park every day, but it is too much for tired grandparents to cope with. Or perhaps they start complaining because their little one is in front of the TV too much …
I would advise parents to create a list of instructions right from the beginning. Often, since we are family, we can easily assume we have the same expectations, and so we do things according to our own judgment. But one way or another, any difference of opinion will tend to make itself known in the end. The parents end up complaining that their wishes have not been respected. It's better to go through expectations calmly at the start, without being too demanding on either side or overestimating the grandparents' abilities.
Read more:
5 things my young kids are learning from their elderly grandma
If the grandparents provide child care for one of their children's little ones, will their other adult children think it's unfair?
Christiane Behaghel: You've got to hope that the other children will understand. That's also why it's best to limit child care duty to a reasonable time, so that this arrangement is perceived as being a temporary helping hand. One of my friends went to a different grandchild's house every day of the week, as she was worried about keeping things fair. Her children were delighted, but my friend ended up exhausted.
On another note, I remember a conversation with a priest who was looking for women to help out with catechism classes at the beginning of the school year. Not only could he not find any mothers, but the grandmothers were also too busy looking after their grandchildren!
One grandmother's experience
One grandmother, named Anne, shares her experience with us:
"My daughter couldn't find a place in day care, or with a babysitter, for her three-month-old baby. As my training is in childcare and I look after kids regularly, she asked me to be her daughter's babysitter. I hadn't thought of that possibility, but I accepted on the understanding it would be for one year only, the time necessary for her to find a satisfactory alternative solution. I also find looking after a baby easy; I can still do lots of things at home, or take her out and about with me. It's different once the child begins to walk and we have to take them to the park or playground. I'm also happy to make the most of my time with my granddaughter. My experience with child care also helps my daughter feel more relaxed; she knows I won't need to call her for instructions if Ines is sick.
I also declared what my daughter paid me to the government, and made sure I had the right insurance. That way, everybody was covered. Another big bonus for my daughter is that I charged half of what daycare would usually cost, which makes it more possible for my daughter to go back to work. Importantly, I established which hours I would be available, as I have lots to do at the end of the day, and we stick to the schedule. If my daughter can't pick up Ines at 4:30 p.m., she has to go to a babysitter.
Concerning my daughter's instructions: she asked me to give her daughter a bottle every four hours. I told her it wouldn't be possible to follow this to the letter, which would have been the case at the daycare center too. Since we trust each other, it's a lot easier."
This article was originally published in the French edition of Aleteia, and has been translated and/or adapted here for English-speaking readers.