She could have despaired, but instead took her suffering and made it a springboard to serving others in pain.
What can God do in your life with one Bible verse a day?
Subscribe to Aleteia's new service and bring Scripture into your morning:
Just one verse each day.
Click to bring God's word to your inbox
There are, in the canon of saints, those whose lives read like fairy tales. Others read more like a soap opera. St. Marguerite d'Youville (1701-1771) was one of the latter, but melodramatic beginnings didn't prevent her from reaching a saintly end.
Born in Quebec to an aristocratic family, Marguerite's life seemed charmed at first. When she was only 7, though, her father died and the family found itself living in dire poverty, depending on the charity of others. At 12 she had to leave school to work and help care for her five brothers and sisters, but Marguerite was charming and beautiful and had caught the eye of a wealthy young man, who seemed about to propose marriage. But when Marguerite's mother made an imprudent match, the nobleman who had been courting Marguerite severed the relationship. She soon found herself married to a very different type of man.
François d'Youville was a bootlegger and a cheat, a man who thought less of his wife than of his overbearing, live-in mother. His business practices were unethical at best and illegal at worst, with the added bonus of being ineffective. He squandered the wealth he'd inherited while his unloved wife buried one child after another, losing four altogether.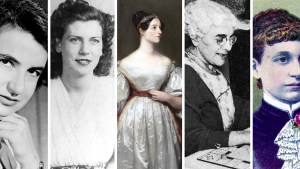 Read more:
5 Life-changing discoveries and inventions by women
After only eight years of marriage, François died, leaving nothing but debts to his wife and two surviving sons. The family's poverty worsened and Marguerite opened a store to try to pay off her late husband's debts. Destitute, grief-stricken, and exhausted, Marguerite had every reason to despair. But even in her trials, she was possessed of a supernatural hope, one that caused her confessor to say to her shortly after her husband's death, "Console yourself, Madame, God has destined you for great works, and you will rebuild a crumbling house."
Even in those early years, Marguerite lived a spirit of generosity that almost seems impossible given what she herself was suffering. She gave alms, visited the sick and imprisoned, and begged money to pay for the burial of criminals. Before long, she had gathered some other women to her side and in 1737 the Congregation of the Sisters of Charity of Montreal was founded.
This community sprang from its foundress' conviction that all men and women are brothers and sisters. But in spite of all the good she sought to do, it took some time for Marguerite to escape the shadow of her husband's reputation. In the early years, she and her Sisters were called "les Soeurs Grises," a play on words that meant, in the slang of the time, both the Grey Nuns and the Drunk Nuns. Marguerite embraced this name, eager to encourage the Sisters to grow in humility even when rumors about their drunkenness led priests to deny them Communion.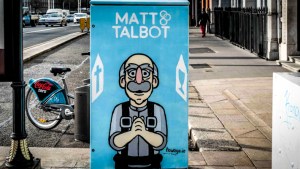 Read more:
He was a drunk. And now he's on the path to sainthood. Meet Matt Talbot
The early years of her religious life were no easier than her life had been before. Sick, maligned, and poor as ever, Marguerite watched the home the Sisters shared with the poor and sick burn to the ground in 1745. As she looked at the ashes of what had been her home, she smiled. "We have until now lived a little too comfortably; henceforth, we shall have more in common with the poor by living more like them."
For the next two years, the Sisters moved from one place to the next, with nowhere to call home. But in 1747, Marguerite was asked to take over the General Hospital of Montreal, which was in a shocking state of disrepair. Though she was so weak she had to be carried to her new home in a cart, Mother Marguerite was equal to the task and before long the hospital was running beautifully, admitting all races, classes, and abilities. Soon a proverb began to be repeated through the streets of Montreal: "Go to the Grey Nuns, they never refuse."
The drama of Mother Marguerite's life continued. The government tried to take the hospital from her once she had repaired and reformed it; they were unsuccessful. In 1765, the hospital burned to the ground; Marguerite knelt in the ashes and sang praise to God, then began to rebuild. Finally, after 70 exhausting years, Mother Marguerite d'Youville bid goodbye to her tragic life, a life that left her the mother of two priests, the foundress of an order that would be home to thousands of Sisters over the years, an agent of social reform, and one of the greatest Catholic women yet to live in the New World.
St Marguerite d'Youville could have despaired a dozen times in her life, overcome by her circumstances and unable to see anything but her own sorrow. Instead, she took her suffering and made it a springboard to serving others in pain. On October 16, the feast of St. Marguerite d'Youville, let's ask her intercession for those for whom everything seems to go wrong, that they would find inspiration in their suffering to offer their lives for others.
St. Marguerite d'Youville, pray for us!
Read more:
Bernadette Soubirous: Nevertheless, she persisted