Tail Waggin' Tutors places therapy dogs with slow readers in local libraries.
To this day, I recall the strained vibe that fell over the room whenever certain kids in my grade school class were asked to read aloud. They were slow readers, struggling to correctly identify and enunciate the majority of the words on the page as the teacher frequently cut in to correct errors. Looking back, I wish I'd possessed enough empathy to have more compassion for those classmates.
For many children, reading does not come easily. It's a skill they struggle to acquire and reading out loud in front of a group or even to a single person can be extremely daunting.
Enter Tail Waggin' Tutors. This unique program, which is part of Therapy Dogs International, functions to place dogs in libraries for children to sit with and practice reading to. Apparently, when reading to an attentive canine, "all threats of being judged are put aside," the program's website explains. "The child relaxes, pats the attentive dog, and focuses on the reading. Reading improves because the child is building self-esteem, and associating reading with something pleasant."
But not just any dog is qualified for the position. According to Centre Daily Times of Pennsylvania, the dogs have to exemplify good listening skills by "[ignoring] any food dropped on the ground [and watching] people leave the room without getting excited."
But if they can pass the test, their attentive presence is worth every second. There's a reason dogs are called man's best friend: "[When] petting a friendly and familiar dog, [a] person's blood pressure lowered, heart rate slowed, breathing became more regular and muscle tension relaxed," according to a report in Psychology Today.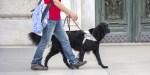 Read more:
The amazing way dogs can save people from life-threatening seizures


Check out some of the world's great future orators reading to their (mostly) attentive canine audiences below:
https://www.instagram.com/p/BRyUfmFFzzc/?tagged=tailwaggintutors