The Holy Father commended the unifying virtues of sports for people with disabilities
Today 350 athletes from the Special Olympics visited Pope Francis at the Vatican. In his warm and relaxed meeting with them, the pope praised a soccer tournament that will be held in Rome, bringing together athletes with and without intellectual disabilities.
The pope said that such a tourney fuels "the hope of a positive and fruitful future" for the sport.
Indeed, sports are, he said, "one of the universal languages that go beyond physical, cultural, social, and religious differences," and are needed in order to bring people together in unity.
Sports also bring us "great stories" about people who came out of poverty or marginalization, Francis added.
The Special Olympics involve 4.9 million athletes, ages 8 and older, from more than 170 countries. The movement aims to improve the lives of the nearly 200 million people around the world who are affected with intellectual disabilities.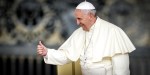 Read more:
Pope backs hockey's effort to make positive changes in sports culture