Matthew Weber of CatholicTV finds that life (neon sneakers and all) imitates art, even of the 16th-century variety.
It was a typical Sunday morning at our parish in Arlington, Massachusetts. My wife and I were arriving late to Mass, myself in tattered clothing, disheveled both in mind and body, quietly slipping into the back pew.
As chronically sleep-deprived parents, we've found going to Mass a steady port in the storm that is early parenting. Our daughter loved the music, stained glass windows, and had infinite faces to reciprocate her radiant smiles. We looked more Beverly Hillbillies than Beverley Hills, but we prayed together and were happy to be as unassuming as possible.
"Could we have a Eucharistic minister come up to assist with communion?" inquired the pastor after the Sign of Peace. This was a familiar call, one typically answered by numerous good-natured parishioners on any given Sunday. Yet this time, no one came forward.
"Is there a Eucharistic minister out there?" inquired the priest again, after all blessings finished and communion distribution was forthcoming. Again, no one budged from a nearly packed church. This I had never seen.
Now typically, I am one to happily help out my parish and priest with assistance — whether that be as lector, usher, or even Eucharistic minister, which I was trained to be in college (ostensibly my pastor knows that from my CatholicTV work). However, as I looked down at myself and scanned exactly what I was wearing, it was very clear I would not be forthcoming with any public duties at Mass, today.
First off, I was sporting a t-shirt with a giant cartoon pigeon on it — I'd love to say it is for my daughter but I actually bought this shirt two years before she was born.
Moving downward, my khaki pants were both frayed and stained, my florescent blue running sneakers were very close to dissolving on my feet, and my hair … oh, my hair was somewhere between Kramer from Seinfeld and 1950s Elvis Presley.
In my 20 years of Catholic schooling and 9 years as an altar boy, I had learned to respect the Mass and always brought my best self when serving. Today, I would stay put in pew.
Yet, as the seconds felt more like minutes, I noticed that still, STILL, no one was coming forward to help distribute communion. Until someone did, we were at a bit of a standstill within the liturgy. And then it happened …
From the front of the altar to the back pew in which I was sitting, the priest pointed at me. It's hard to be a precision pointer from 40 yards away, so I checked the general vicinity — was he pointing at me or someone else? I looked around and no one was acknowledging, moving, or engaging with this metacarpal invitation to assist.
"Me?" I kept thinking to myself. "Why me?" I am totally new to this parish and while the pastor and I have met a few times, I imagined he might know another parishioner far better. Also, I had a pigeon on my shirt. The pastor's finger kept pointing towards me, the wait for communion continued, and I reluctantly (yet dutifully) accepted the invitation by grabbing my rain coat, zipping it up as I reverently glided up the aisle to meet the priest at the altar.
As I walked up, I couldn't help but think about Caravaggio's The Calling of St. Matthew. It is a favorite painting in the Weber household, and one I hold dear, especially in sharing a namesake. The painting depicts Jesus calling on Matthew to follow Him and become a disciple. St. Matthew, looking surprised, obviously accepts this call. Today was a day where I too, like St. Matthew, hesitantly accepted a call to come to Jesus, share Him with my community.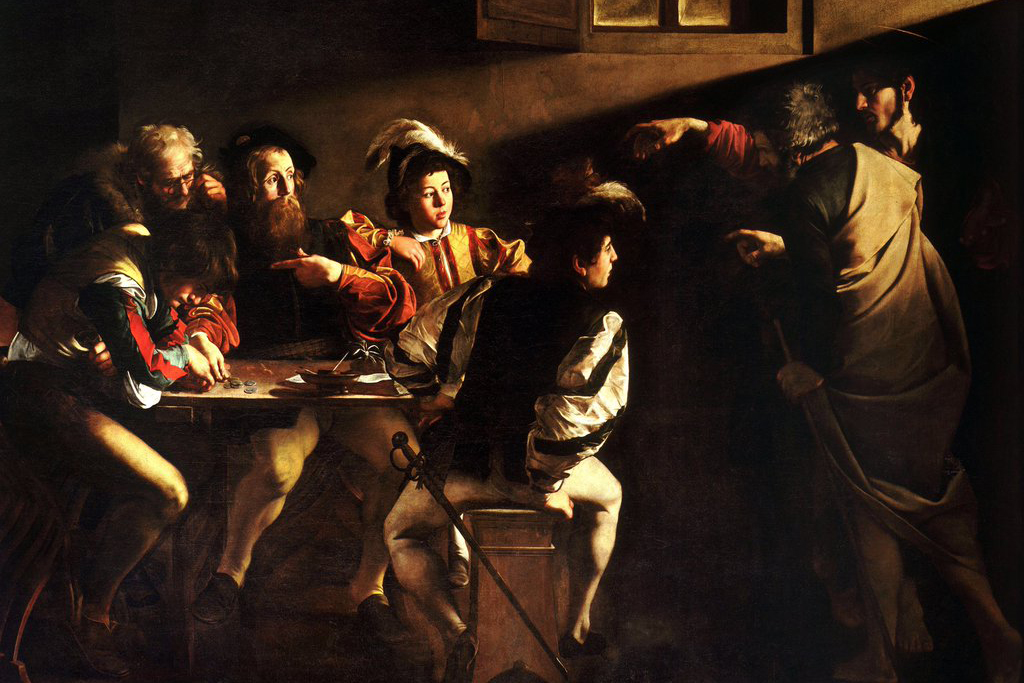 I reached the altar and quickly apologized for my appearance. "I would've come up sooner had I felt more presentable today, but happy to help," I whispered as the priest handed me a dish of consecrated hosts.
"Thanks so much for coming up, Matt." said the parish priest. "Although I was pointing at the guy behind you."
Secondary interpretations of Caravaggio's painting posit that Jesus is in fact pointing at the man slumped over in the photo — and that the bearded individual is actually gesturing at him too, questioning which subject is actually being pointed at.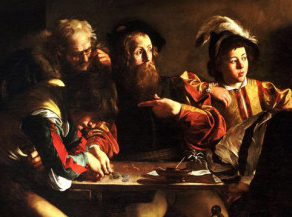 Obviously, based on the title, St. Matthew is being called to Jesus. But, as this non-Saint Matthew can tell you from experience: a calling can be up to wondrous interpretation — just as maybe the Holy Spirit as represented by a dove, from a distance, might in fact just be a cartoon pigeon.