These saints understood the beauty of a prayer life united to Jesus' Heart.
Devotion to the Sacred Heart of Jesus is, according to the Directory on Popular Piety, "one of the most widespread and popular [devotions] in the Church."
It is a deeply Christo-centric practice that has been a vital part of Christian devotion since the beginning. When viewed, "in the light of the Scriptures, the term 'Sacred Heart of Jesus' denotes the entire mystery of Christ, the totality of his being, and his person considered in its most intimate essential: Son of God, uncreated wisdom; infinite charity, principal of the salvation and sanctification of mankind. The 'Sacred Heart' is Christ, the Word Incarnate, Saviour, intrinsically containing, in the Spirit, an infinite divine-human love for the Father and for his brothers."
The ancient devotion was revived and spread throughout the world after a French Visitandine (Visitation) nun named Margaret Mary Alacoque had visions of Jesus, wherein he asked the Church to honor his Most Sacred Heart. Since then numerous saints have promoted this worthy devotion.
Here are five quotes to inspire in our own hearts a deeper love of Jesus' Sacred Heart and to remind us of the personal love that God has for each and every individual.
Our Lord Jesus Christ desires that we should, for sanctifying ourselves, glorify His all-loving Heart; for it was His Heart that suffered the most in His Sacred Humanity. – St. Margaret Mary AlacoqueDo not let the past disturb you, just leave everything in the Sacred Heart and begin again with joy. – St. Teresa of CalcuttaYou heard me, only Friend whom I love. To ravish my heart, you became man. You shed your blood, what a supreme mystery! … And you still live for me on the Altar. If I cannot see the brilliance of your Face or hear your sweet voice, O my God, I can live by your grace, I can rest on your Sacred Heart! – St. Therese of LisieuxIn the Sacred Heart every treasure of wisdom and knowledge is hidden. In that Divine Heart beats God's infinite love for everyone, for each one of us individually. – St. John Paul IIIt is altogether impossible to enumerate the heavenly gifts which devotion to the Sacred Heart of Jesus has poured out on the souls of the faithful, purifying them, offering them heavenly strength, rousing them to the attainment of all virtues. – Ven. Pius XII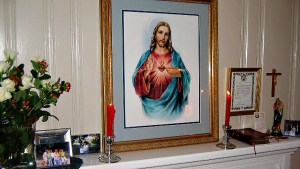 Read more:
How to enthrone the Sacred Heart in your home (and heart)