If Kondo-ing hasn't worked for you, this way of simplifying just might.
I desperately hope this is the new trend in minimalism. "Swedish death cleaning" is the most metal name ever, and I would love to see it splashed across social media. It's already made an impression at Treehugger, where they describe it as a kind of Kondo-ing for posterity:
In Swedish, the word is "dostadning" and it refers to the act of slowly and steadily decluttering as the years go by, ideally beginning in your fifties (or at any point in life) and going until the day you kick the bucket. The ultimate purpose of death cleaning is to minimize the amount of stuff, especially meaningless clutter, that you leave behind for others to deal with.
My mother-in-law tells horror stories about the weeks and weeks she spent cleaning out her mother's house, which had become a repository for family antiques going back generations. What made the job so much more difficult was that the clutter wasn't meaningless, it was quite meaningful — it was the history of her family told by the things they had left behind. But it was still far too much for any one house, and deciding what to keep, what to store, and what to sell or donate was a grueling process.
We experienced something similar when my dad's parents both died. Their house was full of knick-knacks and remembrances that weren't valuable in themselves, but they formed the framework of our childhood. We wanted to keep it all, but we couldn't, of course. Getting rid of things that had mattered so much to our grandparents was a painful and guilt-ridden process, and it's not the kind of legacy I want to leave my own kids.
Granted, at this point in my life, my kids would be the proud inheritors of every phone charger that's passed our doorway and endless drawers of their own artwork. The first is a result of misguided thriftiness (what if I need the charger for my long-gone Blackberry again one day?!) and the second is straight-up mom guilt. I might look back fondly upon one or two pieces of artwork from each child in each of their years of school, but I will never look fondly upon the evolution of my children's ability to draw cartoon farts. Never.
So in that sense, Swedish death cleaning is a game-changer. Do crayon farts spark joy? No, but I feel guilty throwing it out because a beloved (though lamentably scatalogically-minded) child drew it. However, is it worth leaving behind for said posterity to one day reclaim and potentially rejoice over? Absolutely not. Time to file it into the recycling bin.
I cannot wait to embrace Swedish death cleaning, actually. But first, I'm going to need a bigger trash can.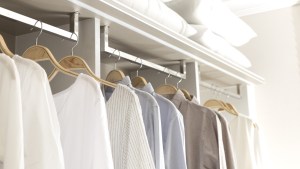 Read more:
Want to be a minimalist? Start with these 3 areas of your life