Too often we base our opinions on our subjective idea of someone, rather than on who they really are.
You can get Aleteia inspiration and news in your inbox. Our specially curated newsletter is sent each morning. The best part? It's free.
Sign up here
Sometimes when we meet someone new, we start to form ideas about them right away, even though we barely know them; occasionally — even worse — we start to decide what they're like even before we meet, just based on what we've heard about them, or a superficial detail like the sound of their voice on the phone. If what we like about them outweighs what we dislike, we put our good impressions front and center and lock away from what annoys us about them in the "I'll deal with it later" box, and voilà: we start creating our own mental "avatar" for them.
The creation of an avatar
The concept of an avatar — originally from Hinduism, but perhaps more familiar nowadays from internet forums, or from the blockbuster 2009 film — can be enlightening. An avatar, as we mean it in the context of human relationships, is not a real human being, although in some cases we may be completely convinced of its humanity for quite a while; it's our subjective idea of someone, based partly on characteristics we've cherry-picked from reality, and partly on our hopes and expectations, which may have little or nothing to do with fact. One of the most common circumstances under which we subconsciously create an avatar is when we become infatuated with someone, or when we fall in love.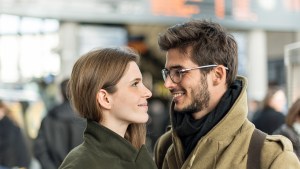 Read more:
Why international relationships are so challenging
When we get a crush on someone, we feel that the object of our affection embodies all sorts of virtues and desirable qualities. In a remarkable way, all our ideals and desires converge on that person. We are overwhelmed by his or her presence — as well by their absence; and our lives take on dramatic overtones, like the lives of Jane Austen's heroines.
Having constructed an avatar of the person, we often suppose we know what he or she is thinking. Because we focus on our subjective impressions and interpretations, we can suffer offenses that never happened except in our minds, or we can interpret as love and affection what is merely politeness. We read into and interpret every gesture of their hand, every movement of their eyebrows. There are strange creative processes going on in our heads — and this is very dangerous, because we are reacting not to the real person, but to the avatar we have created.
Hearts broken by illusions
Creating avatars and interacting with them isn't living in the real world. An avatar is not a real person. If we get entangled with one, then we will never actually meet a real person. We will potentially allow something unreal to break our hearts, confuse us, and cause us grief.
Of course, eventually we will discover that the person whose avatar we created is actually different from our expectations. (Trust me, this happens sooner or later in every case, because even those we think we know best, like our husband or wife, will inevitably reveal some aspect of their personality that we misunderstood, ignored, or simply never saw). When that happens, it's not the end of the world. On the contrary, it's a good thing that we finally met that person in reality, as an actual human being, and we can root our relationship in the truth. We are on the right track. We've moved on from an imaginary friend to one of flesh and blood.
Why do we do it?
There is an important question we should ask: why do we like an avatar in the first place? The answer is kind of sad: because an avatar has a one-dimensional, predictable personality. It's comforting, in a way, because we think we understand the person completely; yet, it has none of the excitement or depth of a real person. It can never make us truly happy, and it's setting us up for disappointment, besides keeping us in a life without real relationships.
Perhaps, deep down, we are afraid that someone will discover that we are not as great a person as we'd like them to think we are. We built avatars in the hope that others will do the same for us, in a favorable light. The good news is none of us is perfect; there's no reason to be afraid of people discovering in us something that is actually a universal problem.
Fortunately, reality will eventually break through our illusions, one way or the other. When that happens, the important thing is to be willing to accept people as they really are — with virtues and vices, a mystery we can never fully comprehend — and not just make a new avatar for them. That may mean our pseudo-relationship comes to an end, or it may mean that our love becomes even more real. Either way, we're better off with reality.
Read more:
Bishop Barron: Ingrid's virtual reality
This article was originally published in the Polish edition of Aleteia, and has been translated and/or adapted here for English-speaking readers.