Is Satan's popular depiction from the Bible? Or is it from Disney?
Need an idea for Lenten almsgiving?
Help us spread faith on the internet. Would you consider donating just $10, so we can continue creating free, uplifting content?
Make a Lenten donation here
In Western culture, say the word "Satan" or "devil" and a popular image will immediately come to mind. It features a demonic being with a pointy tail, horns, and cloven hooves, wearing red tights and carrying a pitchfork.
Where did this image come from? Is it biblical?
Surprisingly, the imagery is derived from both ancient Greek mythology and the Book of Revelation.
Horns
The Book of Revelation describes a great beast (traditionally associated with Satan) as follows, "Then I saw another beast which rose out of the earth; it had two horns like a lamb and it spoke like a dragon" (13:11). St. John further explains how this beast has a particular number that marks all those who follow him, "let him who has understanding reckon the number of the beast, for it is a human number, its number is six hundred and sixty-six" (13:18).
Cloven hooves
One of the largest influences of the modern depiction of Satan is the Greek god Pan. He was known as a god of the wilderness and many stories associate him with lust. Christians saw all pagan deities as incarnations of the devil, but Pan's sinful activities and grotesque, goat-footed appearance made him a perfect symbol.
Pointy tail
The devil's reptilian tail is another symbol connected to Revelation. St. John writes about "a great red dragon … His tail swept down a third of the stars of heaven, and cast them to the earth" (12:3-4).
Pitchfork
Also known as a bident, the pitchfork-like staff was used by the Greek god of the underworld, Hades, and represented his sovereignty over the dead. Since Satan is viewed as the "lord" of Hell, he is frequently depicted with a bident.
Red tights
The wearing of red tights is more of a recent invention, highly influenced by Disney's animation of "devils." At the same time, it is also derived from the fact that in medieval morality plays the figure of Satan was played by an actor wearing a red outfit.
Christian author C.S. Lewis was one to criticize the comic looking devil, writing in his Screwtape Letters(from the viewpoint of a demon), "The fact that 'devils' are predominately comic figures in the modern imagination will help you. If any faint suspicion of your existence begins to arise in his mind, suggest to him a picture of something in red tights, and persuade him that since he cannot believe in that (it is an old textbook method of confusing them) he therefore cannot believe in you." Lewis suggests that a comedic devil has contributed to the belief that the demonic does not exist.
Read more:
Be careful of Satan when he's sweet and polite, warns pope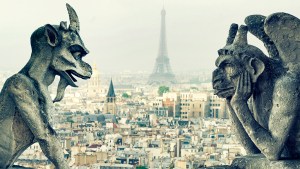 Read more:
How gargoyles save souls … and ceilings