Learn what's beneath someone's words to avoid arguments and misunderstandings.
Many times we experience difficulties when we interact with other people — not just because we might not know how to express ourselves openly, but also because we fail to understand the other people, not really grasping what they are trying to say.
Putting the other person first
In one of the surviving fragments of his writings, the ancient Greek philosopher Heraclitus says, "Not knowing how to listen or speak: such are men." When we listen to others, we are almost always thinking about something else, and when we go to interact with someone, we often bring to the table preconceived questions, as German philosopher Heidegger said. When we listen to other people, we ask ourselves how the things they are saying relate to us and to our own interests. Without intending to, we are no longer truly listening to the other person; rather, we are centered on ourselves, seeking our own interests.
Sometimes we are so centered on ourselves that when the other person wants to open up and tell us something, in just a few seconds we are already thinking about some similar situation that affects us personally, and we might even interrupt, telling the other person what happened to us. This tendency to refer everything back to ourselves is very common, and it's difficult to find someone who can listen while free from any personal interest or anxiousness to talk about him or herself.
This habit of being attentive to other people only to the extent that what they have to say has something to do with ourselves is a great obstacle to understanding others.
Only if we truly love others will we listen attentively and disinterestedly, trying to understand them regardless of whether or not we have anything to say about what they are sharing, and regardless of whether or not it has anything to do with us. Not infrequently, people who don't feel like they are being heard end up saying to their listener, "This isn't about you! I just want to share it."
Beyond ideas
In order to understand others, it's not enough to understand the words they say and grasp their ideas; we must also comprehend what they are feeling, what they are trying to put into words and perhaps aren't saying in the best possible way. Listening to someone completely means discovering the other person on every level they are communicating, not just in their words.
Cardinal Carlo Maria Martini (former Archbishop of Milan, Italy) used to say that we should always initiate communication by expressing our feelings. One thing that can help us when we listen to another person is if we pay attention to the passion that he puts into certain things he says, focusing on the things he repeats and on the things that animate him most.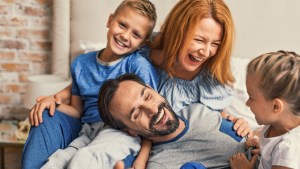 Read more:
The communication technique that can bring peace to your home
How can we interpret people's words better?
Often, there is a great distance between what we understand, what the other people actually said, and what they really wanted to express on the inside. Being aware of this disparity helps us to avoid many misunderstandings.
Not infrequently, we are more attentive to what certain words mean for us and to what we already think about what the other person is saying, than to what the person is actually trying to communicate. If, when the other person says something to me, I am already thinking that I know what she wants to say — often judging her as being in the wrong — I will never know what she really wanted to say to me.
Sometimes, when someone else finishes speaking, it helps a great deal if we ask whether we understood: "So, what you're saying is …?"Reformulating in our own words what the other person said can be useful so we can know if we truly understood.
Empathy
Putting yourself in the other person's place is more important than trying to understand them intellectually: we must empty ourselves of ourselves, so we can receive what the other person has to say. In the spiritual life, we grow in the measure that we learn to listen; listening isn't just a matter of being in front of someone else, and receiving what they have to say to us; rather, it means making our interior a dwelling place for the other person.
People express themselves in very different ways, and this demands that we accept and understand them as they are. For example, some people express themselves using many exaggerations, because they feel a need to awaken the interest of those who listen to them — not because they want to lie. They are trying to make us feel the same way they do, with the same intensity with which they experience what they are telling us.
Cultivating silence
Silence is the language of love, of depth, and of being truly present for the other person. Silence is often more eloquent and communicative than any word. It's a way of being present for other people and receiving them with openness and sensitivity.
Enzio Bianchi, an Italian Catholic author and founder of a monastic community, writes that "profound silence generates charity, attention towards others, welcoming others, and empathy for others. Silence digs out a space deep inside us so we can bring others to live there."
Practical advice
It helps a great deal if we are at peace, because otherwise other people will note our anxiety. It's more important than ever today to pay complete attention to other people, leaving our smartphone out of reach and not doing other things while listening to other people. We should look them in the eyes and not interrupt them unnecessarily.In the end, listening is a form of loving.
Read more:
Do these 3 things and you'll automatically be a better listener
This article was originally published in the Spanish edition of Aleteia, and has been translated and/or adapted here for English-speaking readers.