Despite good intentions, unhealthy family relationships can sometimes have long-term effects.
Relationships with moms can be difficult. In the beginning when we are children, moms are our entire world. Later, you keep a greater distance, so that you can explore the world. Not every mother understands that, or knows how to let go and slacken the bonds that bind you.
Unfortunately, this can cause conflicts and problems at a time when the bond with your mother — one of the most important people in your life — should be full of mutual understanding and compromise.
Why having a good relationship with your mom is so important
If you are experiencing difficulties in your relationship with your mother, or with other people in your adult life, the book The Mom Factor by Henry Cloud and John Townsend could be helpful. The authors emphasize that your development depends significantly on your mother's attitude towards you and on your response to the process of being mothered. This is because you learn about relationships with others through your parents. The type of relationship you have with your mother largely shapes your current relationships. For example, if your mother was overly concerned about you, in your adult life you might have difficulty accepting tenderness from others. Or, if your mother was overly controlling, you may be sensitive on this point, and consider even simple questions as an attempt to control you.
Read more:
Will nagging help your daughter succeed?
The authors identified six types of unhealthy mother-child relationships. Here they are:
The Phantom Mom
The Phantom Mom, or the distant and absent mom. She is emotionally inaccessible. She is characterized by constant self-control, which makes it impossible to establish a bond with her. She experiences frequent mood changes, which can lead her child to be afraid of trusting her. She is so involved in her own life's problems that she distances herself from her child. As a result, her child doesn't have a way to deepen the bond with his or her mother; consequently, as an adult, she or he is emotionally unable to develop close relationships with others.
The China Doll Mom
The China Doll Mom doesn't know how to deal with unpleasant or stressful situations. She cannot cope with her problems and feels overwhelmed by what the child brings into her life. As a result, the child doesn't learn to deal with emotions; this makes him or her, as an adult, powerless in the face of feelings of anger, sadness, or fear that they or someone they know experiences.
The Controlling Mom
The Controlling Mom is sure she knows what is best, and her attitude makes it difficult or even impossible for her child to grow as a person. Such mothers create a sense of guilt in adult children when they try to become independent and attempt to go beyond the control of their parents. Some of the behaviors they use include showing indifference, using emotional blackmail, or showing anger and hostility. They want everything to be the way they want it.
The Trophy Mom
The Trophy Mom needs an audience and appreciation. She wants to be the center of attention and often uses her child to that effect, doing everything possible to make her child seem perfect and live up to her expectations; she wants her child to "make her proud" in all circumstances, to be a "trophy" she can brag about. The adult children of this kind of mother are driven to be the best and to satisfy the needs of others. They try to make other people happy, and do everything to avoid letting people down. They are afraid of making mistakes and showing weaknesses. They are unhappy due to their perfectionism and to constantly comparing themselves to others.
The Still-the-Boss Mom
The Still-the-Boss Mom's guiding principle in dealing with her children is, "It doesn't matter how old you are, I will always be your mother, and you will always be my baby."She doesn't know how to allow her child to grow up and become independent. As adults, her children have difficult relationships with peers, because they never learned to relate to others as equals and partners. Consequently, they either remain in the role of a child, feeling inferior and incapable of making mature decisions, or they take on the attitude of a boss, trying to lead and control others. Both styles can function alternately in the same person.
The American Express Mom
The American Express Mom is the type who doesn't let their children grow up and move out, literally or psychologically; she metaphorically enforces the old American Express motto, "don't leave home without it." She tries to keep the mother-child relationship unchanged forever. Her adult children on one hand idealize their mother, and on the other hand, fight for their "independence." They also transfer this fight to other relationships, which means they don't know how to build relationships based on mutual concern and trust.
Not every mother necessarily fits any of these categories exclusively or to a significant degree; it's quite possible that your mother — or you, as a mother— is or are imperfect but fundamentally a good mother. Don't be surprised if you don't fit into any of them.
On the other hand, even if one of the categories does apply to you as a child or as a mother, we must remember that generalizations are helpful, but they are just that: generalizations. They cannot capture all the nuances and circumstances of specific cases. They can be very helpful to give us insights into factors that may have affected our development and our current relationships, but we shouldn't fall into the danger of exaggeration or hasty judgments.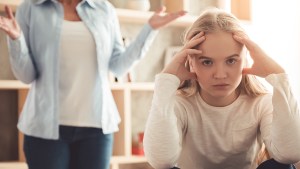 Read more:
Yes, it's possible to reinvent your mother-daughter relationship
This article was originally published in the Polish edition of Aleteia, and has been translated and/or adapted here for English-speaking readers.