The 16th-century saint dedicated herself to self-knowledge, and can teach us a thing or two.
Need an idea for Lenten almsgiving?
Help us spread faith on the internet. Would you consider donating just $10, so we can continue creating free, uplifting content?
Make a Lenten donation here
"But what do they do all day?" A friend once asked me about nuns."They pray," I said. He wasn't impressed, and insisted, "Doesn't that seem like the easy way out? To leave real life behind and not give a second thought?"
I suspect a lot of people, if asked, might feel the same way. If they've ever given it a second thought, perhaps they have a romanticized picture of a monastery or convent as a group of people who've given up on real life and escaped into the comforts of a mountain retreat, wasting time.
The perception is reasonable, but it's far from the truth. In fact, anyone who has spent even a few days in silent retreat knows that it's a very difficult experience. Once the mayhem of "real life" is taken away – the traffic, noise, internet, phone, television – it quickly becomes clear that those are nothing more than distractions. For those willing to withdraw and embrace the struggle of self-reflection, the reward is not to fall away from reality into a dreamland but, rather, to draw close to the wellspring of existence. This being the case, who better than a contemplative nun to explain the path to self-knowledge?
St. Teresa of Avila, a nun who lived in 16th-century Spain, dedicated her life to the demanding pursuit of self-knowledge. In her famous book The Interior Castle, she even tells readers: "Self-knowledge is so important that, even if you were raised right up to the heavens, I should like you never to relax your cultivation of it." In other words, self-knowledge is the work of a lifetime.
Here is some of her beginner-level advice for us to take to heart …
Desire more
The first step to self-knowledge is, as Teresa says, to move into the inner rooms of your interior castle, which is her description of the soul. Perhaps this step seems so obvious that, as she admits, "I seem rather to be talking nonsense." In a way, too, it seems odd to advise us to enter more deeply into our own soul. Teresa explains, "It would be absurd to tell someone to enter a room when he was in it already! But you must understand that there are many ways of 'being' in a place." There are so many distractions, and so many are concerned with outside affairs that they have no time or energy to look inwards. If we want to know ourselves, we must first get past our superficial existence and look deep inside.
Prayer and meditation
Once we commit to introspection, the door of entry into the interior castle is prayer and meditation. Teresa emphasizes that, whatever sort of prayer a person likes, it must be accompanied by meditation. The key is mindfulness and laying aside preoccupations. She writes that the reason this step is important is because, "Where their treasure is, there is their heart also." If our focus is always outwards, it shows that we're depending on things outside of us to define who we are, that we value other things more than our own selves. Because of this, our self-knowledge gets distorted and tangled up in externals. Taking time to put aside distractions and meditate is a way of treasuring the human soul in the same way that God treasures it.
Humility
The process of re-discovering self-worth can be a jarring shift of perspective. It's all too easy for me to consider my myself successful because I make a lot of money, have an impressive education, or possess enough money to buy the gadget, clothing, or car I want. Turning away from those and envisioning myself in the very first room of my interior castle is humbling. If I want to really, truly know myself though, humility is absolutely necessary. Teresa writes, "Humility must always be doing its work like a bee making its honey in the hive: without humility all will be lost." Humility is a virtue that a person with self-knowledge will naturally practice, because the more we know ourselves the more we also realize that our souls are in the hands of God alone.
Mutual love
The importance of humility clues us in to an essential aspect of the human soul that we cannot forget if we ever wish to cultivate self-knowledge. We do not belong to ourselves alone. We belong to God and to our neighbor. Our souls are made to expand and unfold in mutual love, and this is the one activity outside of ourselves that doesn't distract from self-knowledge but actually helps to enrich it. Teresa explains it in practical terms, writing: "Mutual love is so important for us that I should like you never to forget it; if the soul goes about looking for trifling faults in others, it may lose its own peace of mind." In other words, the absence of love becomes the very sort of distraction that we seek to avoid. Love greatly and you will know yourself better.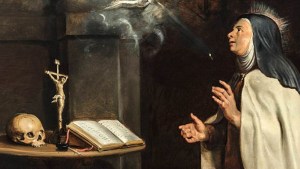 Read more:
12 Interesting facts about St. Teresa of Avila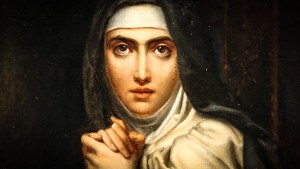 Read more:
5 Pithy sayings of St. Teresa of Avila