Savvy women talk about what to do before, during, and after harassment and assault.
Need an idea for Lenten almsgiving?
Help us spread faith on the internet. Would you consider donating just $10, so we can continue creating free, uplifting content?
Make a Lenten donation here
Harvey Weinstein's meteoric fall from grace and the testimonies of dozens of actresses have sparked a worldwide conversation, inspiring other victims to stand up in solidarity with the hashtag #metoo. Breaking silence is often one of the most powerful ways to overcome deeply rooted shame, and the #metoo campaign is one way for women to show each other that they're not alone.
According to Facebook statistics, more than 45 percent of people in the United States are connected to someone who used the #metoo hashtag — and that's not counting all the people who said it via private messages or echoed it silently in their own heart. The hashtag was used nearly a million times on Twitter, and Facebook reported that 4.7 million people worldwide were talking about the issue in the first day the hashtag was introduced.
As many women point out, sexual assault is not just a "women's issue" and it's not the woman's fault. It's fundamentally a man's issue that is as old as recorded history … a man's sin that becomes a woman's burden.
Of course, not all men are Harvey Weinsteins or harassers – there are so many men who are good and decent, unsung heroes who treat women with dignity and respect. (Yes, we see you!)
We all need to work for change, but let's also be realistic: it will take real and sustained effort to address the various factors in our culture and in people's hearts that create predatory men. In the meantime, let's talk about practical things women can do right now to protect themselves. We asked a group of savvy women to share their suggestions and here's what they said…
1. Trust your gut … but also educate it
One of the first pointers is to trust that inner gut feeling that tells you whether or not someone is trustworthy. "If something feels off, it probably is," Anne suggests.
Mary recommends the book The Gift of Fear by Gavin de Becker as a helpful resource for teaching women how and why to trust their gut instinct about people. De Becker observes how victims of violence usually have a moment of fear before the assault takes place, but they tend to push it aside because they don't want to seem rude or because they doubt their own instincts.
De Becker, who is one of the most high-profile experts on predicting and managing violence in the United States, gives specific, practical advice about spotting the suspicious behaviors, body language, and verbal ploys that predators use. His book would be an excellent gift to equip young women with the tools they need to "educate their gut" and develop more confidence in their internal creep detection system.
2. Don't go it alone. Talk to someone you trust.
Anne also recommends sharing the incident that made you uneasy with someone you trust to get an objective read on the situation. "They can offer an opinion of whether or not to take further action," she adds.
Suzanne mentions that women in her industry are forming secret Facebook groups to compare experiences and to warn each other of patterns of behavior they have observed.
3. Avoidance strategies
Lorena, who is married and works in a male-dominated industry, says she has a few "practical rules to keep a lot of doors closed," such as avoiding extra one-on-one time or private communications with men.
Diane adds that it's best to limit yourself to one or two drinks at evening work-related functions, and to "leave before other colleagues get drunk. Once people start drinking, inappropriate things start happening."
4. Set clear, firm boundaries
Helen talks about developing the self-confidence to set firm boundaries and express them clearly. "Practice saying, 'I'm not comfortable with …' Practice in the mirror. You don't have to explain or justify your discomfort. Just say it to them and DON'T APOLOGIZE. Then shut up and watch them squirm."
She emphasizes the need for clear communication: "Be direct. Don't expect them to interpret your uncomfortable body language."
If it feels unnatural to be so direct and outspoken, practice with a friend. Or have a friend intercede on your behalf — sometimes we just need one woman to show us how to find our voice.
"As a young healthcare provider, I have let far too many rude or inappropriate comments go unaddressed from male patients," Rita shares. "Then I had a very inspiring female coworker go in and set some clear boundaries on my behalf. I realized that was exactly what I should have done from the start!"
5. Make sure there are consequences
In a work setting, it's a smart idea to "document and tell supervisors," according to Helen. In addition to the emails to HR, keep a journal with a date and description of each incident.
If HR is not handling it, the website Workplace Fairness offers abundant resources to help victims understand the law and file a complaint with the EEOC (Equal Employment Opportunity Commission).
In a school setting, Title IX of the 1972 Education Act guarantees women that if they are at a federally funded school and file a complaint, the US Department of Education will investigate and order remedies.
For cases of sexual assault, call the National Sexual Assault Hotline at 800-656-4673 to get the full array of legal, medical, and counseling support available to you. It's confidential.
6. Unleash the inner warrior
"I am not in danger, Skyler. I am the danger."
It's not that we want our girls to become Walter White, Breaking Bad's chemistry teacher turned drug lord, but we do want them to be a force to be reckoned with, and certainly not easy prey. As the 1984 Grayson-Stein study showed, predators prefer women who seem to lack self-esteem or who appear submissive, weak, or uncertain. Women who have an air of confidence, wholeness, and strength are unwittingly repelling possible aggressors, the study showed.
One way to build up that confidence and strength is through self-defense training, which is not just about punching and kicking, but also about assertiveness in words.
"We need less Sleeping Beauty and more Wonder Woman," says Kelly. "Self-defense helps!"
Tim Larkin, a former trainer of Navy SEALS (and father of two girls) wrote the book Survive the Unthinkable: A Total Guide to Women's Self-Protection as a guidebook for turning vulnerable girls into strong women who can "neutralize any threat." His book gives insight into how predators think and gives women tools and suggestions on how to become adept at deterrence and self-defense.
Another excellent resource is Beauty Bites Beast: The Missing Conversation about Ending Violence. Authors Ellen Snortland and Ken Gruberman point out that violence is a reality, and that not learning how to respond or defend oneself – both with verbal assertiveness and action – is like living in a place surrounded by water and never learning how to swim.
A burden for the foreseeable future
In the end, sexual harassment and assault begin as a male problem and end as a woman's burden. We all hope that one day the sheep dogs will outgrow the wolves and that the population of psychopaths and sex addicts will vanish, but cultural trends do not seem to be pointing in that direction.
So the best response for the here-and-now is to get smart and get strong, learn to trust our instincts, speak out clearly, and act forcefully in proportion to the threat.
Read more:
Harvey Weinstein is everywhere, and every woman has met him
Read more:
Why I Will Keep Fighting the Culture War About Sexuality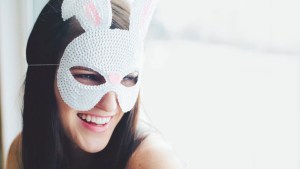 Read more:
It's time to take a stand against hypersexualized Halloween costumes