Designers are incorporating Braille into their clothing to help people with limited sight feel stylish and beautiful.
It's hard enough for a woman with her five senses intact to pick out clothes to wear; just imagine how it must be for someone who can't see … How do they combine colors or pick out an accessory? Not to mention those blouses that sometimes, even when you can see them, are impossible to figure out how to put on.
Various fashion designers around the world have come together to answer this question by incorporating Braille — the tactile system of reading and writing used by people who are blind — into the creation of articles of clothing that give greater autonomy to sightless people when clothing themselves.
Lithuanian designer Rugilė Gumuliauskaitė creates collection books that depict her clothing designs in relief, a method of molding, carving, or stamping to make the design stand out from the surface, so that her clients can get an idea of what the design looks like before trying it on. And although she tries to use basic colors that combine well with each other, she has learned how to explain them using emotions and other senses — for example, green is the way grass or leaves feel — providing a complete experience to the blind clients at her little boutique.
María Sol Ungar, an Argentinian designer who lives in Buenos Aires, began to design clothing for people who are blind or have poor vision for her thesis project in college, which required her to solve a problem related to clothing. Her brand is called Sonar — the name comes from associating blind people with echolocation, the sound-based method used by bats to fly and find food in the dark. (Some humans also use the technique.) "Sonar offers clothes with original designs: urban clothing that has an attractive design and enough information for non-sighted people to be able to go check it out in stores or dress themselves at home without the assistance of sighted people," Ungar told Argentinian newspaper Río Negro in 2013, explaining that she doesn't only use Braille, but also relief, embroidery, and textures, to provide as much information as possible about the clothing, including instructions for care and cleaning.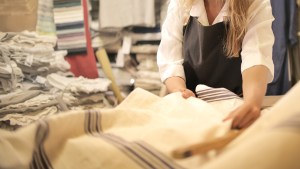 Read more:
Meet the man who's turning fashion industry waste into beauty (VIDEO)
Yet another desinger is the Two Blind Brothers brand, led by two American brothers, Bradford and Bryan Manning, who as children were diagnosed with Stargardt disease — a degenerative illness that causes people to progressively lose their sight. They decided to become fashion designers to create casual shirts for men and women, accessible to people with vision impairment. Their focus is on the softness of the products (which are very casual, but use high-end materials); they include information in Braille on the tag. The most interesting thing, though, is that 70 percent of their employees are also blind, and everything they earn is used to finance medical research and clinical trials aimed at curing blindness.
Beyond a doubt, these three examples invite us to reflect on the reductively simple way in which many of us, with our five senses intact, perceive fashion. It's not only about what we see, but also what we feel or what we hear when we stroke the cloth. Our clothes can transmit emotions in many ways, if we learn to perceive them.
These designers, within their differences, have something in common: they are not making clothes only for people with a disability, but rather are making fashion lines that are inclusive — attractive and usable for anyone and everyone, regardless of whether or not they can see — and they are working to make it more possible for every person to communicate through the clothing they wear.
Read more:
An innovative fashion gala for people with disabilities (VIDEO)
This article was originally published in the Spanish edition of Aleteia, and has been translated and/or adapted here for Spanish-speaking readers.