Plus, some natural methods to help restore those deep-sleep brain waves ...
What can God do in your life with one Bible verse a day?
Subscribe to Aleteia's new service and bring Scripture into your morning:
Just one verse each day.
Click to bring God's word to your inbox
I was in my late 20s when I experienced insomnia for the first time. I'd always fallen asleep easily and slept well … the only sleep complaint I had was that if I woke up too early, it was hard to go back to sleep.
In fact, I can remember only two of my friends in college struggling with sleep, and none in high school. These two stand out because insomnia was a life-long struggle for them, something that always had been. But for the rest of us, getting a good night's rest was as easy as falling asleep.
That all changed one week in my late 20s, when I suddenly couldn't go to sleep. There was no reason for it — no undue stress or excessive caffeine. I just couldn't sleep. For days.
Not to be dramatic, but it was the most terrible thing that had ever happened to me. Childbirth was infinitely easier than insomnia. I'd go to bed keyed up and anxious, waiting desperately for sleep to put me out of my misery, and spend hours tossing and turning. I would get out of bed furious, feeling both desperate and half-dead, constantly rubbing at my dry, gritty eyes. After two days I stopped driving, because I'd fall asleep at the wheel going around the corner to the store. I was cranky, irritable, exhausted, and incredibly stressed out by the inexplicable insomnia.
After a week, I guess my brain just gave up, because I started sleeping again. But I never again took sleep for granted — which is probably wise, since it seems that my future contains significantly less sleep than my past, according to the Wall Street Journal.
As you enter your 30s and 40s, your deep-sleep brain waves become smaller, less powerful and fewer in number. Reductions in deep-sleep quality increase your risk of heart attacks, obesity and stroke, as well as the buildup of a toxic brain protein — called beta amyloid — that is linked  ​to Alzheimer's disease. Passing into your mid- to late-40s, age will have stripped you of 60 to 70 percent of the deep sleep you were enjoying as a teen. By the time you reach age 70, you will have lost 80 to 90 percent of your youthful, restorative deep sleep.
As Dr. Matthew Walker explains, decreasing deep-sleep brain waves are just the first part of the problem. As we age, we tend to be woken more frequently through the night by everything from body aches to weakened bladders. We also experience a circadian rhythm regression — our internal sleep clocks move forward, causing us to fall asleep and wake up much earlier. There's some hypothesis that this change is a remnant of tribal living, when the elderly woke to keep watch while the children and younger hunter/gatherers slept.
Regardless of the cause, the good news is that circadian rhythm regression can be treated with bright lights in the evening — the very thing insomniacs are warned against. Prescription melatonin has also proved very effective in improving both sleep regularity and sleep quality in the elderly. Combined with preventative measures like reducing liquid intake and taking Epsom salt baths before bed, melatonin can help you sleep through the night and enjoy more of those coveted deep-sleep brain waves.
The important thing for everyone, young and old, is to take sleep seriously. Losing sleep doesn't just make you tired and cranky, it opens you up to a host of physical and cognitive damage. So go to bed early — doctor's orders!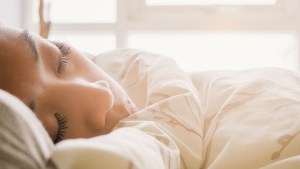 Read more:
Sleeping 8 hours a night could save your life