The new English translation is called "Prayers Against the Powers of Darkness"
The U.S. Conference of Catholic Bishops (USCCB) recently announced the long-awaited publication of an English translation of the Rite of Exorcism, a project that many bishops requested since the newest Latin edition was released in 1999. At the same time the US bishops are publishing a complementary book that will be available for any priest, religious or lay person.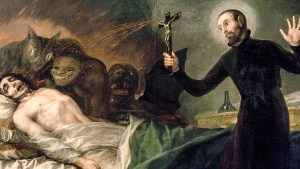 Read more:
Can anyone perform exorcisms?
This separate book is titled Prayers Against the Powers of Darkness, and was originally an appendix of the newly revised Rite of Exorcism.
The USCCB explains the content of the book on its website:
This small pocket-sized book will assist the Christian faithful in their struggle against the infernal enemy. It is a powerful treasury of prayers of praise and supplication to Almighty God and prayers invoking the intercession of the saints.This durable prayer book includes: Prayers to God for Protection Invocations to the Holy Trinity Invocations to Our Lord Jesus Christ Invocations to the Blessed Virgin Mary St. Michael the Archangel Prayer Litanies Prayers Against the Powers of Darkness contains the complete text of "Supplications Which May Be Used by the Faithful Privately in Their Struggle Against the Powers of Darkness," which is Appendix II of Exorcisms and Related Supplications, the ritual book used by exorcists.
The Catholic Herald reports, "[Fr Andrew Menke, executive director of the USCCB's Secretariat of Divine Worship] said the prayers in the appendix can bring comfort to anyone who prays them, whether or not an individual is undergoing an exorcism … 'The book is meant to facilitate a very reflective kind of prayer,' he said. 'It's not something you read like prose. It's meant to be a meditative, patient, trusting, quiet sort of prayer.'"
The small prayer book will be available on November 5 and can be pre-ordered through the USCCB website.
Read more:
Be careful of Satan when he's sweet and polite, warns pope
Read more:
A prayer of exorcism taught by Saint Anthony