Can Satan (or any devil) predict the future?
The Catechism declares, "The power of Satan is, nonetheless, not infinite. He is only a creature, powerful from the fact that he is pure spirit, but still a creature" (CCC 395).
The short answer is no. Fallen angels (as well as good angels) do not have access to the future unless God reveals it to them. As Jesus says in the Gospel of Mark, "But of that day or hour, no one knows, neither the angels in heaven, nor the Son, but only the Father" (Mark 13:32).
On the other hand, they can make predictions about the future based on observation. Demons by nature are extremely intelligent and can observe people and events very closely, having a sense of what will happen. Essentially they can "predict" the future with limited accuracy, not because they know something hidden, but because they are able to observe and give a general prediction like any smart human.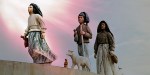 Read more:
This is what it's like to see an angel