What does Satan look like? 
All angels are pure spirits, meaning that they do not posses a physical body, though at times they can take on the appearance of a human or some other creature. The visible form that is often reported in Scripture or popular news stories is merely a facade, a mask they put on so that we can see them with our eyes. Otherwise they are naturally invisible creatures.
Artists have used various images to depict Satan, such as a dragon, serpent, or a some other mythical creature. However, according to Satan's nature he is without physical form.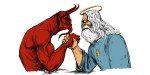 Read more:
Why is Satan depicted with horns, red tights and a pitchfork?