The dog was acting strangely, even though Sophie was miles away at school.
One day in December 2015, 5-year-old Sadie Brooks said goodbye to her beloved yellow Labrador, Hero, a diabetic alert dog specially trained to determine whether she's experiencing unsafe blood sugar levels, and went off to school. Sadie has Type 1 diabetes, and her dog accompanies her almost everywhere, but not to school. Michelle Brooks, Sadie's mother, explained in a Facebook post that Hero is required to have a full time guide to accompany Sadie, who was born with Down syndrome, to school, a task that is far too big for Sadie.
The dog is able to detect dramatic changes to her blood sugar levels through an odor that's produced by the body when those chemical changes occur, typically about 15 to 30 minutes before the onset of an attack. When Sadie's blood sugar levels start to fluctuate to dangerous levels, Hero is trained to whine, sometimes from as far as one to two miles away. When you ask the dog, "What is it?" he will then paw her left hand if Sadie's blood sugar level is under 100 or nose her right hand if it is over 200. Hero is one incredible dog!
But sensing danger from farther away than that? Impossible … or so Michelle Brooks thought …
On that ordinary day in December, Hero was at home, about five miles away from the school, when Sadie's mother realized he was acting strangely. Normally a quiet dog that only whines when something is wrong, Hero was clearly distressed. Although, Sadie's mother knew they were too far away for Hero to sense anything wrong, she decided to phone the school just in case.
Sadie's teacher, Ms. Stoneman, checked her levels and found they were normal. Because Hero is trained to whine up to 30 minutes before an attack, Michelle asked the teacher to check them again within 30 minutes. The teacher did as instructed and sure enough, Sadie's numbers had plummeted from 122 to 82, a life-threatening range. If not for Hero's warning, Sadie could have gone into a diabetic coma, but because of the alert, the school was able to quickly grab a "low treat" from her medical box before it turned into a real problem. Hero was truly a hero that day.
Michelle has no scientific explanation for how Hero could sense Sadie's dangerous situation from such an unheard-of distance. It is quite amazing. But she does offer an alternative, less tangible theory:
"I think it's like mother's intuition. These dogs have abilities and senses beyond our understanding," she said. Sadie's dad believes Hero is an angel. An angel sent from God to watch over her.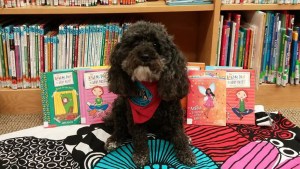 Read more:
These dogs are helping kids learn to read — and it's adorable (PHOTOS)