I dread them more than a root canal, and yet in the midst of the hectic ...
What can God do in your life with one Bible verse a day?
Subscribe to Aleteia's new service and bring Scripture into your morning:
Just one verse each day.
Click to bring God's word to your inbox
Wakes and funerals are not on the top of anyone's list of favorite activities. I know I dread them, maybe even more than a root canal. Sometimes I've dragged myself only out of a sense of duty.
But the older I get, the more I find that wakes and funerals are a boost for my own spiritual growth.
Rushing around as most of us do, it's easy to allow the tasks of the day, current events of the week, family, home and work responsibilities of the moment to fill our minds.
The dishwasher guy is coming at 2:00. I promised I'd walk the neighbor's dog. Gotta call the insurance company about that bill. Office report is due on Wednesday. My cousin's bridal shower is Saturday. Someone just told me the back light on my car is out. I've now cancelled my skin cancer check three times. And wow my hair needed to be cut three months ago.
A close friend's husband died suddenly last week. Of course I'm sad for the loss and turmoil she's now experiencing. But selfishly I thought, "Now I have to fit in the wake and funeral."
We now interrupt previously scheduled programming … I joked to myself.
Then I remember that every time I go to a wake or funeral, it turns out to be the wake up call I need. Days chock full of trivial and superficial hassles are not all there is, and not all we're here for.
I can get so caught up in getting things done — the immediate, the here and now — that it's easy to relegate death, judgment, and eternity to the far back recesses of the mind.
At the funeral the song that always brings me to tears helps to re-focus me on trying to live a worthy life. We need to refocus on God's calling us to follow Him, on His love and mercy but also His judgment.
May the choir of angels come to greet you
May they lead you to paradise
May the Lord enfold you
In His Mercy
May you find the eternal light.
There's nothing like a body in a casket to snap you right out of that mindset. This man I knew was talking, joking, eating last week, like the rest of us, and now he's in eternity.
He knows now what we all wonder our entire lives: what will it be like when we die, when we are judged, when we meet God?
Kneeling at the casket of someone you've known for years brings all the important questions right to the front.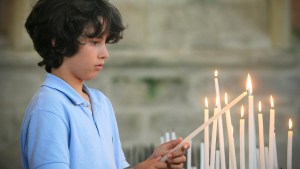 Read more:
How my 7-year-old's first experience of death was deeply imbued with peace … and even joy