Designers are experimenting with the relationship between fashion and disability.
Need an idea for Lenten almsgiving?
Help us spread faith on the internet. Would you consider donating just $10, so we can continue creating free, uplifting content?
Make a Lenten donation here
Is fashion important to our understanding of disability? These designers would give a wholehearted "yes"!
Designers from the top fashion schools in the country, including Parsons New School for Design and Fashion Institute of Technology, have contributed to the Design for Disability Gala. Hosted by the Cerebral Palsy Foundation, the show exhibited "accessible fashion" designed for people who use wheelchairs, crutches, and other mobility equipment.
"It really started with thinking about the seated figure," Claudia Poh, one of the designers, says. "Rethinking how they could be re-designed." The designs accommodate both the practical challenges of each model and aesthetic. As one model says, "We're people too. So why not look at me, and see my beauty?"
The event seeks to improve the lives of people with disabilities and to challenge social engagement by bringing disabled people into an industry and conversation from which they might otherwise be excluded. Every individual is affected by the fashion industry, whether knowingly or unknowingly, and the decision for this industry to adapt for the consumer, as opposed to the consumer for the industry, is a significant step toward a new social consciousness.
"People think of people with disabilities as a thing to be hidden," one model says. "And it's such a great sense of pride to say, 'Here we are. We aren't going anywhere.'" Hopefully, this is just a beginning step in an ongoing conversation about the relationship between disability and the industries that form so much of our lives.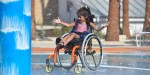 Read more:
Morgan's Inspiration Island is the first waterpark for people with disabilities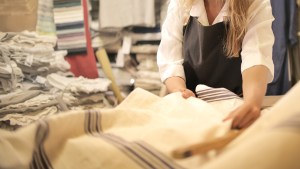 Read more:
Meet the man who's turning fashion industry waste into beauty (VIDEO)