Including one deliverance prayer that was taught by Jesus.
Need an idea for Lenten almsgiving?
Help us spread faith on the internet. Would you consider donating just $10, so we can continue creating free, uplifting content?
Make a Lenten donation here
Often the most powerful prayers to drive out the presence of evil come neither from the Church's rituals nor from the saints; they are found in the Bible.
The various human authors of Scripture were inspired by God to write down countless prayers, many of which were directed towards the expulsion of evil. These are powerful prayers, some of which are used in exorcism rites. For example, the "Our Father" is always said by the priest during exorcisms, and is believed to be the perfect prayer of deliverance.
So the next time you want to call down God's help in driving out evil, try opening the Bible to the following verses and praying these divinely inspired prayers.
Our Father, Who art in Heaven, hallowed be Thy name; Thy Kingdom come, Thy will be done on earth as it is in Heaven. Give us this day our daily bread; and forgive us our trespasses as we forgive those who trespass against us; and lead us not into temptation, but deliver us from evil. (Matthew 6:9-13)

Arise, O Lord!
Deliver me, O my God!
For thou dost smite all my enemies on the cheek,
thou dost break the teeth of the wicked.
Deliverance belongs to the Lord;
thy blessing be upon thy people! (Psalm 3:7-8)

Though I walk in the midst of dangers,
you guard my life when my enemies rage.
You stretch out your hand;
your right hand saves me.
The Lord is with me to the end.
Lord, your mercy endures forever.
Never forsake the work of your hands! (Psalm 138:7-8)

The Lord will rescue me from every evil and save me for his heavenly kingdom. To him be the glory for ever and ever. Amen. (2 Timothy 4:18)

O Lord, my rock, my fortress, my deliverer,
my God, my rock of refuge!
My shield, my saving horn,
my stronghold, my refuge,
my savior, from violence you keep me safe.
Praised be the Lord, I exclaim!
I have been delivered from my enemies.
The breakers of death surged round about me,
the menacing floods terrified me;
The cords of Sheol tightened;
the snares of death lay in wait for me.
In my distress I called out: Lord!
I cried out to my God;
From his temple he heard my voice,
my cry reached his ears. (2 Samuel 22:2-7)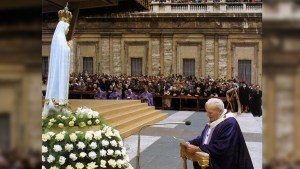 Read more:
Prayer for Deliverance from Evil by St. John Paul II