And several things you should never say ... like "she's gone to sleep forever."
Need an idea for Lenten almsgiving?
Help us spread faith on the internet. Would you consider donating just $10, so we can continue creating free, uplifting content?
Make a Lenten donation here
The subject of death raises many questions in children's minds — from wanting to know if it hurts, to having an exact idea of when it will happen. It's these sorts of questions parents find difficult, as we don't have an exact answer, and it's a subject we're not always comfortable talking about. Yet, for children these questions are only natural; people die, and they are curious about it, just as they are about everything else. So don't be surprised, or distressed, if your child calmly asks, "Mom, will you be dead when I have kids?" It's just children trying to figure things out without realizing what death actually entails.
It is often the case with younger children that they don't realize that death is definitive. If you think about it, their daily routine usually involves many of their loved ones disappearing for hours, and then returning, without fail. They can't imagine a life without those people.
Sometimes you may be faced with a stream of questions that need to be answered straightaway. As long as you are honest and feel comfortable talking about the subject, you can speak simply and freely. It's important for a child not to have scary grey areas in the back of their heads if they want to grow into an adult who doesn't fear death.
Don't leave things to their imagination
Many parents, fearing to traumatize their child and unsure of how to explain the topic, find themselves powerless when their son or daughter mentions the subject of death. In these cases, often out of principle, they refuse to broach the subject and hide behind a wall of silence. So what should parents say that won't result in anxiety attacks or morbid nightmares? It's essential not to leave thoughts or ideas to their imagination. It is important to answer questions as they crop up, by answering clearly and honestly.
We need to be careful with metaphors such as "Grandma has left us," which can be troubling for a child. She's left us to go where? Will she come back? Equally, to say that a deceased grandmother is up in the sky can cause concern for a child. They might develop a fear of traveling a plane, in case they might bump into thousands of dead people floating in the clouds. It's always best to use the right words.
Therefore, avoid phrases such as "she's gone to sleep forever" — that's a sure way of making children worry about going to bed, in fear that they may never wake up. In the same way, don't use expressions such as "she's left for a long trip," because a child will be waiting for the return of the dead person, or will be anxious when they themselves, or people they love, head off on a real trip.
It's best to simply say "Grandma is no longer alive. We won't see her again on this earth."
Where does the resurrection fit in?
We might ask ourselves if we should explain the resurrection to our children right away when speaking of death: the answer is, not necessarily. A priest we consulted advises parents to gauge their children's ability to comprehend. He suggests: "We could begin by saying that as Christians, we believe in the soul's immortality, which is the spirit that brings the body to life. Then they could add that we believe that the bodies resurrect and live together with the soul in eternity." With the popularity of zombies in popular culture, we have to be sure the children understand that this will not happen at unexpected times here on earth, but only at the end of this world, and that it will be a glorious and beautiful event for those who go to heaven.
Pass on hope
Sometimes we might think that, by shielding children from situations that upset us, we are doing them a favor. However, we can learn a thing or two from younger generations. When a five-year-old named Pierre was leaning over his grandma's coffin, after it had been lowered into the ground, he merrily said, "Bye for now, Grandma!" while waving goodbye. Obviously, others were taken by surprise; his mother remembers the slightly awkward expressions of those at the gravesite. His implicit expectation that he would see his grandmother again is a sign of hope, which is always welcome during those sad times.
Another mother, named Madeleine, took her children from a very young age to any funeral service she was attending. She noticed how their presence was sometimes considered improper by other attendees. Yet, often the presence of children can be very consoling. At her aunt's funeral, her young daughter was carried up to the coffin to bless it. Even the most distressed found this a very touching sight: a little girl who couldn't even reach the lid of the coffin was there blessing an old aunt.
It's a critical moment to share with children, although not necessarily joyous. It is imperative to talk, using simple words, and answer any questions that a death might raise. Don't leave your child searching for answers. In the opinion of the priest we consulted, "the most important thing is that your child realizes they will no longer see that person on Earth; however, they can hope to see them once more, after their own death, for all eternity." As he reminds us: "It is all about hope and the communion of the saints!"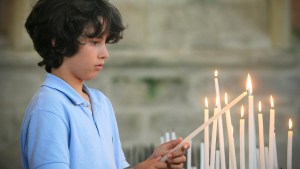 Read more:
How my 7-year-old's first experience of death was deeply imbued with peace … and even joy
This article was originally published in the French edition of Aleteia and has been translated and/or adapted here for English-speaking readers.