This work starts early, continues daily, and can be hard at times ... but the effects last a lifetime.
Kids experience the true and essential love on which they can build their life within their family. The love that they feel from their earliest childhood makes them feel accepted, respected, understood, and encouraged. It's the foundation of the trust that they feel toward their parents, and it's an essential value in their upbringing.
Children learn trust in their daily dealings with those who care for and protect them
Nourishing that trust every day is key, even as they grow and become more independent; it will be their "lifesaver" when conflicts come up. Children constantly need their parents' unconditional love and support; it's crucial for their healthy self-esteem. And the image that we build of ourselves is a reflection of how our loved ones see us. The parents' love is a strong bond that makes the child feel good about himself and feel loved just for existing and for being himself.
Hand-in-hand with self-esteem
The self-esteem that comes from the certainty of being loved is healthier and more solid than the kind that is based, as too often happens, on the good or bad things that we do. Many people think the only way to increase kids' self-esteem is to reward positive behavior and praise them for what they do well. It's true that this can help their self-concept, but it can also happen that when they make a mistake, they feel disappointed in themselves and think they might lose the love of the people who praised them when they did things well.
That's why kids need a healthy and strong relationship with their parents that lets them be right, be wrong, behave well, and behave badly… and not feel any less loved.
It's also good to realize that trust makes kids associate their parents with feelings of security, affection, and peace. But be careful — it's a very fragile value that can be lost with imprudence, betrayal, distance, forgetfulness, or doubts.
To earn that trust, we need to create spaces of intimacy with our children, give them time, listen to them, and embrace them.
Read more:
7 Things kids tell psychologists – but are too afraid to tell their parents
How to foster greater trust in our kids
Teach them to set and respect limits. Help kids recognize that they have a right not to allow anyone to hurt them, and that they also have a duty not to hurt anyone. This teaches them to set limits in their relationships and helps them trust that they won't be targeted by aggression or abuse. When a child interiorizes his limits, he learns to respect himself. 
Help them do their duty. Teach her to be punctual, to turn her homework in on time, to go to the activities she chose, to finish what she started, and to do what she said she would do. This helps others trust in her and teachers her to trust in herself, as she learns what she can and can't do. The parents' example is key: if they do what they said they would do, the kids will too. 
Let them take charge. Kids learn to trust when parents and kids each take charge of what pertains to them. We have to let kids make some decisions, and recognize and accept what they do, think, and feel. Accompany them in the process of making decisions according to their age, since this prepares them to face the mistakes and difficulties of life and to trust that they can do it. Learning to recognize when they make mistakes, saying sorry, forgiving, and repairing their poor choices is key for teaching them to value themselves and build solid relationships with others. One important detail: parents should also tell kids they're sorry when they make mistakes. 
Don't lie to them. Lies, even white lies, hurt relationships. When parents lie to their kids, they destroy the trust between them. Of course, you don't have to tell them everything; measure what they need to know according to their age and maturity, and if it's too early to explain something, just tell them it's a topic for grown-ups. If parents lie in front of their kids, they're teaching them that it's okay. Kids need to learn to be honest with themselves and be able to admit their feelings, strengths, failures, and limitations.
Foster communication. Keep up an open and sincere dialogue with kids; listen to them in order to understand them, enjoy their stories, and let them ask questions. Parents need to find a time and place where kids can speak freely without interruptions. We need to be able to listen to what they are saying without getting upset or judging them, always bearing in mind that it's not always easy for them to open up. What they need in such cases is help. Kids tend to trust more in parents who share their experiences with them. 
Don't tell others about what our kids tell us. Parents often share the stories and experiences of their children without realizing that they are violating the trust their kids placed in them. When a kid discovers that her story was not kept in confidence as she had expected, she feels betrayed and can simply stop sharing experiences with her parents.
Be understanding. Don't assume that your child has acted with the intention of causing harm, bothering you, or making things go wrong. He isn't intentionally screwing things up.  Try to understand him and the reasons for him behavior, and help him find solutions and face the situation. Help your child to accept his mistakes and identify what he can change so that he doesn't go through the same experience again. This is what teaches kids to trust in themselves and others.
Article written in collaboration with Javier Fitz Perez, a practicing psychologist and professor of psychology at the European University of Rome, delegate for International Scientific Development, and head of the Scientific Development Area of the European Institute of Positive Psychology (IEPP).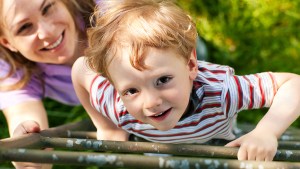 Read more:
The real key to helping kids build character
Read more:
Pope Francis to parents: Take care of your children's hearts
This article was originally published in the Spanish edition of Aleteia and has been translated and/or adapted here for English speaking readers.