It's easy to get freaked out reading all the books and talking to friends ... this should set your mind at ease.
Before we become mothers, our perception of motherhood is often not quite the reality. A world full of diapers, feeding, and constant cleaning up may not seem that attractive. Yet, once that little baby is in our arms, that maternal instinct kicks in and we finally get to appreciate the joys – and sometimes tears – that come with being a mom.
So to help any future moms out there, we spoke with moms, young and old, to pass on what they would really have appreciated knowing before welcoming their baby into their lives. This is what they told us.
1. We're not creating babies, but children
This may seem crazy to a pregnant mom, yet it's a very important message for parents to bear in mind during those good and bad days. While the first few months can be a struggle as you try to understand your baby and respond to his every need, it is also a time to cherish these fragile little cherubs before they move onto the next stage. Likewise, as your toddler drives you crazy with their eating habits, this soon will pass and they'll be eating by themselves in no time, just like a big kid. These early years demand a lot of presence and physical energy, just as the years that follow will require a different type of energy and moral presence.
We're not often told that we'll be instinctively ready for each next stage. However, as the child grows, we grow with him. There are moments where we need more time to adapt; some mothers find it tricky going from being a mom who nurses and cuddles a newborn, to a mom who educates and sometimes punishes her older child (while having as many cuddles as she still can!). It can be a real challenge but we get there in the end, adapting to what comes next, being the responsible and loving parent our child needs.
2. You'll become even stronger once you're a mom!
Faced with sleepless nights, physical and sometimes moral fatigue, we still manage to get through the day … and the next! Often moms aren't prepared for how much love, patience, and humor are needed to get through those early years, and are often surprised at their ability to feel such strong emotions. Before the baby arrives, many moms would have appreciated knowing they would have this capacity to feel such love. This depth of feeling is sort of a revelation as much for the couple as it is for the moms: we learn to surpass ourselves, with a complete devotion for others. As our family grows together so does this strength. Although it demands a huge amount of self-sacrifice, we gain an enormous amount of inner peace by giving ourselves to others.
3. It's a tsunami in the couple's life
It is essential to realize that welcoming a child will create some sort of upheaval within the couple. In fact, some moms would even say the arrival of a new bambino leads to the "total disruption of the family." But, as they say, forewarned is forearmed, so preparation is key to happy family living.
If the couple is able to take the time once the baby arrives to discuss changes in their expectations of each other and their roles within the family, they will be able to prevent feelings of panic or dissatisfaction. With the arrival of a new family member, everyone needs time to adjust and find their place and role once again. It's important for the couple, as the fundamental pillar of the family's equilibrium, to remain united and strong.
4. We're quick to worry about everything and anything
As is so often the case, we get stressed over nothing. Sometimes watching a film or reading a heart-wrenching article about a child (illnesses, accidents) has us reaching for tissues. A lot of moms are highly sensitive during their pregnancy and beyond, particularly in relation to their kids. The slightest worry can grow out of all proportion, generating unnecessary stress among even the calmest of women.
Although we often talk about children's fears, we rarely broach the subject of those very real maternal anxieties. Moms often spend their time worrying about something happening to their children: what if they get lost in the crowd (worse still, what if someone takes them while they're out of sight); what if they get sick; what if they don't sleep enough; what if they bother others with their noise. The "what ifs" can sometimes feel endless, even more so at night.
Everybody remembers John Paul II saying: "Don't be afraid!" We moms need to remember that our children belong to God first of all. We need to give them the best possible grounding to build their lives by letting them know our Lord, and eventually accept that we can't control every aspect of their lives or ours. They'll have their crosses to bear, as we do ours. We can't raise our children in gilded cages.
6. Having children will make you more confident
Moms will often find that their own motherhood makes them mature and grow in self-esteem. It is true that the birth of a child marks the concrete and definitive passage from those carefree youthful days to being a responsible parent. This could be seen as the real rite of passage to becoming an adult. But it could also be said that this growth in confidence comes from not having the time to worry about what others think!
Read more:
Never mind "mommy brain" … motherhood actually enhances creativity
Yes, becoming a parent takes the focus off thinking about ourselves and perhaps allows us to see things from a different perspective. We worry about more meaningful things and experience a shift in our priorities — family, health, work. We work and develop the divine virtues of faith, hope, and charity in our duty to pass them on to our children.
6. Things don't always go as planned
One mom of a severely ill little girl said: "When we become a mom, our hearts change once and for all. Our weaknesses disappear in a whirlwind of unexpected strength. I didn't truly know the definition of love before. With love comes the crushing weight of responsibility for another being who is entirely dependent on us."
Having a child is comparable to taking a leap into the unknown. We go for it without really knowing what's waiting for us. It's a selfless act that must endure. We don't have children to possess them, nor to model them at our will, and we have to keep in mind that they may end up nothing like we thought they would.
Children fill us with humility, especially when we consider the family model we had previously envisioned before having kids. It's so easy to think "we'll never do that in our house" but we must be humble; we never know what we'll come up against on becoming parents.
7. There's no instruction manual
As soon as we announce we're pregnant, we're bombarded with advice from well-meaning friends and relatives and social media. Sometimes we need to switch off and remember that it is our child, not theirs.
Sometimes the best advice isn't even written down in the myriad of parenting books out there. That's when we need to listen to our maternal instincts. Quite simply, a good mom is a mom who wants the best for their children. There will be times when we're struggling in our choices – such as our child's education — or doubting our own abilities. If that's the case think of the selfless acts of the Virgin Mary, who had such little control as to what would happen in her child's life but who accepted everything by following Him with all the love she could give.
Know how to ask Mary for the same graces in our maternal role. Given that there's no user guide, we have to muddle through.
8. It is pure joy
There's a reason we call babies "little bundles of joy." Before having children, we can't imagine the happiness they can bring. It's always great to share with pregnant moms how much they'll feel fulfilled once their baby arrives.
And we couldn't end this article with anything more appropriate! Be joyful knowing that you have received a gift from God and remember that life is full of beautiful surprises that reveal themselves each day. While babies marvel at all that is new in their lives, why don't you find your inner child and rejoice in the daily joys your new life as a mother has to offer?
Read more:
I'm a Mother of 18 and Loving It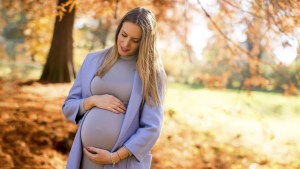 Read more:
Here's what no one tells you when you're about to give birth …
This article originally appeared in the French edition of Aleteia and has been translated and adapted for an English-speaking audience.