Shawn and husband Andrew East's experience, captured on video, may help other couples who are struggling with the same grief.
Olympic gymnast Shawn Johnson East and her husband, NFL player Andrew East, weren't planning on starting a family quite yet, but when Shawn found out she was pregnant, they were both thrilled. The couple celebrated their first wedding anniversary in April, after a year during which, due to their work, they spent more time apart than together.

But the rollercoaster was just beginning. Only a few days after receiving the news of her pregnancy, Shawn began experiencing stomach pains and bleeding. A trip to the doctor confirmed her worst fear: she had lost the baby.

In a tear-filled

, she and Andrew expressed their ongoing grief with their fans. Shawn shared her intense feelings of self-blame after the miscarriage, confessing that she even apologized to Andrew for losing his baby.

"The past 48 hours have been some of the happiest, scariest, and saddest times of my life," Shawn said.
Shawn and Andrew received such an outpouring of support after sharing what happened that they now want to continue sharing their healing process in order to bring healing to others.
An estimated 1 in 4 pregnancies end in miscarriage, and yet the grief that follows is rarely discussed openly. Hopefully, Shawn and Andrew's story will reach many other couples who are struggling with the same grief and show them that they are not alone.
In a post on Instagram, Shawn wrote, "It was a story that needed to be shared as so many struggle with the same thing." To Andrew, she added, "I know you are going to make the greatest Daddy in the world someday."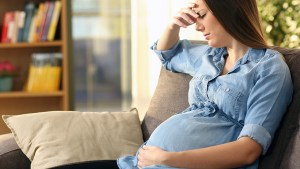 Read more:
Mourning a miscarriage: One mother's poignant story
Read more:
Finding the gift in everything … even after miscarriage