This new method might be the easiest one yet!
Recently, a new parenting trend has been making its way around the internet, claiming to be the easiest way for parents to teach their kids to tie their shoes, and it looks like it lives up to the hype.
In the video above, the demonstration takes only 37 seconds. The idea is to secure the ends of the laces into the lace holes, and then use the loops to tie them. When the ends are removed, the shoe is tied in a bow.
The original video was posted by Kristen Johnson, the blogger of Unstoppable Mother, and the video has since garnered over 5 million views. Moms everywhere have commented that their kids nailed it on the second or third try, and the story has now been covered by bloggers at Macaroni Kid and Woman's Day.
So, if you have a little one, give it a go. Or pass it along to someone who needs it!
Read more:
Why your kids should go barefoot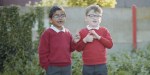 Read more:
Watch these kids try to explain how they're different from each other (VIDEO)