Ask with the confidence of a child with his mother.
Need an idea for Lenten almsgiving?
Help us spread faith on the internet. Would you consider donating just $10, so we can continue creating free, uplifting content?
Make a Lenten donation here
A prayer for those times when we yearn for a Mother's care:
O most wonderful Mother,
don't forget me
when I forget you;
don't abandon me
when I abandon you;
Follow me with your heavenly gaze
and call me when I go away from you;
search for me when I hide;
pursue me when I flee;
compel me when I defy you;
convert me when I stand against you;
lift me up when I fall,
and lead me back along your path
when I go astray.
Amen!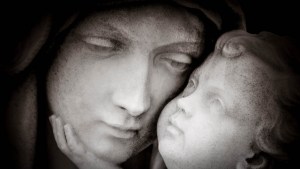 Read more:
"To Jesus through Mary": I finally get that!