Many top executives do their best work at this insane hour ... here's why.
I have this dream where I wake up every morning at 4:30, run through my taekwondo forms while the coffee is brewing, then sit down with my cup and laptop and work until my kids get up.
In my dream, this goes smoothly and nothing interrupts me. I finish my work just as it's time to wake the kids up for school, which I do gently and cheerfully, being fully caffeinated. I'm dressed and able to focus on their morning routine, which is consequently not rushed or frantic. I have them at school on time and return home with time to answer emails, pay bills, do some laundry, and get a jump start on dinner. When our day ends I'm able to go to bed as soon as they are in bed, having no residual work to finish or laundry to fold. I sleep deeply and wake up refreshed. At 4:30 a.m.
The Wall-Street Journal is fully on board with this fantasy. They even published a long treatise on it called "Why 4 a.m. Is the Most Productive Hour," featuring people from all walks of life waxing eloquent on the joys of early morning productivity.
Executives have often touted the benefits of an early morning start. Apple chief executive Tim Cook, known for being among first in the office and the last to leave, starts his morning routine at 3:45 a.m. And Sallie Krawcheck, chief executive of Ellevest and former Wall Street executive, has written, "I'm never more productive than at 4 a.m." Non-executive early birds aren't necessarily workaholic. They hope to avoid the distractions of technology and social media. Those who work from home want a jump start on their day before other demands intrude. Some are seeking solitude and quiet. "When you have peace and quiet and you're not concerned with people trying to get your attention, you're dramatically more effective and can get important work done, so they have that part right," says psychologist Josh Davis, director of research at the NeuroLeadership Institute and author of the book Two Awesome Hours, about using science-based tools to enhance productivity.
It all sounds so perfect, right? So attainable? After all, who else would be up that insanely early to bug you?
I'll tell you who: my children.
There have been many times when I've tried to make my dream a reality. I crave the peace and solitude of early mornings, I think better and feel better in the morning, and I love watching the sun come up while drinking coffee. But I have children with some kind of internal alarm system that alerts them on the rare occasions I wake up early.
The same children who groan and whine and beg for five more minutes when I wake them up at 6:15 also invariably, inevitably, independently hop out of bed at 4:45 if I happen to be awake and alone. They climb into my lap for hugs and ask for breakfast and admire the sunrise with me, and it's all very sweet and heartwarming. It's also not the reason I got up at 4:30 a.m. By the time I get them to school the only things I've accomplished are losing an hour of sleep and drinking a whole pot of coffee before 7 a.m. (an admittedly impressive feat).
I don't know how to turn my children into the magical beings discussed in the WSJ, who sleep through the sounds of the coffee brewing and the blender whirring, but until I figure it out my 4 a.m. dream will have to remain a dream. Unless I want to wake up early for some sunrise snuggles — which, to be honest, are pretty great sometimes.
Read more:
How women can lighten their "mental load" to stop feeling exhausted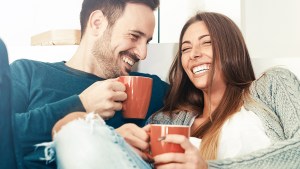 Read more:
The one big thing missing from the stay-at-home mom debate