You make a plan for the start of your day, but don't forget about the end of it!
Need an idea for Lenten almsgiving?
Help us spread faith on the internet. Would you consider donating just $10, so we can continue creating free, uplifting content?
Make a Lenten donation here
Advice abounds on how to start the day well, but evening habits are not always given the same consideration. When children are involved, it's especially important to be organized in the evening, to avoid bedtime meltdowns.
Kids are much more sensitive to anxiety than adults. A child's sensitivity makes her a sponge for emotions. Before the age or 4 or 5, a child also has trouble projecting into the future — she lives in the present. "Quick! We're in a hurry!" and other such exhortations are difficult for kids to understand. Follow these tips to stay organized and enjoy your family evenings more.
1. Plan your week
Planning is the best way to stay on top of things. Foreseeing what's ahead allows you to take stock of busy times (meeting at 6 p.m., judo class, lunch with family) and times of rest. A global vision provides structure and promotes peace.
Planning several days ahead also allows you to anticipate errands and the commitments of each family member: Who is doing day-care pickup? Who's bringing the youngest to religious ed? Who will be home for lunch? Post your weekly schedule on the fridge where everyone can see it (templates for weekly planning can be found online).
2. Make time for play
Even if time is limited, always allow a few moments to play, read stories, or pray together. "Some evenings, I feel like I'm running a race where each minute counts," describes Ingrid, mother of 3-year-old Leo. "When I feel the stress rising I try to dissipate it with play. I lie down on the ground for five minutes with him and we play airplane or tickle. It's an outlet."
Kids are not adults. They need refuge and a sense of security. Quiet time before bed with stories and individual or family prayer is an important and enjoyable ritual. Limited time can be enhanced by the quality of our interaction.
3. Get the chores done first
Coming in from work or school, get the essentials done first so that you can rest later. "When I get home, I keep up the pace of my day and begin meal prep right away," says Emily, mother of Calie, 4, and Samuel, 1. During this time, the kids snack, play, and unwind. And once the food is prepared, we head for the bath!"
For meal time inspiration, take note of recipes you find in magazines or online. Get your kids to help, too. Kids love participating, and cooking can become a fun communal activity.
4. Encourage kids to be independent
We sometimes believe that our kids can't do certain things alone, but they love being independent! "I always used to help my daughter take a shower," says Marie, mother of Louise, 6. "I would help her get undressed, wash her hair, or organize her things. One night as I was about to rinse her hair, she said, "I've already done it, Mommy." I understood her desire to do things herself, to show her independence. Since then she takes her shower alone every night, without my help."
When your children achieve greater autonomy, it gives you a chance to do other things (errands, laundry, tidy the living room, etc.) so that you can join your child later for leisure time.
5. Take note of what's left to do tomorrow
Instead of creating an enormous to-do list, take note of the little things you didn't have time for today that will need to be done tomorrow. Mental overload is exhausting — trying to help your child with homework, while thinking of an email you forgot to send that morning, for example; spare yourself by listing what's been done and what's left to do.
"Before leaving work, I always take 10 minutes to list everything that's in progress," says Julie, mother of three. "Especially before the weekend. This allows me to leave with peace of mind and come back on Monday knowing exactly what I have to do."
Keeping track of what you've done also allows you to recognize the highlights of the day or week. Feeling grateful to yourself and proud of what you have accomplished is an important factor in well-being.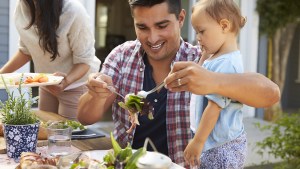 Read more:
6 Easy ways to improve your family mealtime
Read more:
What To Do When Technology Is Ruining Family Dinner Time
This article was originally published in the French edition of Aleteia, and has been translated and/or adapted here for English-speaking readers.