With some creativity, you can come up with alternative ways to direct them toward safe, acceptable behavior.
Need an idea for Lenten almsgiving?
Help us spread faith on the internet. Would you consider donating just $10, so we can continue creating free, uplifting content?
Make a Lenten donation here
A study once conducted at UCLA concluded that the average toddler is told "no" roughly 400 times a day. It seems excessive until you consider that parents tend to repeat the word two, three, or more times for emphasis when it comes to really naughty behavior or unattainable requests. It doesn't take an additional study to determine that being subjected to that amount of negative speech probably isn't doing our little ones any favors.
Sure, kids need direction and protection and it's our job to guide and keep them safe. But simply using the word "no" left and right is, in reality, an ineffective way to accomplish these things. According to Parents.com, experts say that not only does this "desensitize a child to [the word's] meaning" but it can also have a lasting, negative effect on their psychology, generating resentment and rebellion.
So, in an effort to discover alternative ways to direct my 2-year-old away from adverse behavior, I sought advice from four expert moms, including a prominent pediatrician and a mother of 10. Here's what these insightful ladies had to say:
Put the really dangerous stuff away and let them explore
As far as toddler experts, they don't come much more qualified than Dr. Jana. She's not only a mom herself, but a pediatrician, educator, health communicator, and author of several books including The Toddler Brain. Simply put, she knows toddlerhood better than most of us know ourselves.
Dr. Jana recommends a shift in perspective. "[It] helps to consider it a toddler's job to touch and grab things and just generally 'get into everything,' since [it's an] age of exploration combined with newfound mobility," she says. In other words, we need to bear in mind that our children are hardwired to gather information with their senses. It's their way of learning about the world and how to live in it so when they reach for a glass statue or put dirt in their mouths, it's not because they're being intentionally rebellious; it's because their brains are saying, "Let's learn about this."
"[The] goal then becomes trying to create safe environments in which toddlers can roam and explore as freely as possible without being at risk," Dr. Jana says. The fewer opportunities a little one has to get into dangerous or unsuitable shenanigans, the less often "no" will be necessary. This can be accomplished by childproofing areas of the house, providing plenty of exploratory toys, and remembering out of sight out of mind. "[It's] often easiest to keep forbidden temptations out of sight as it is predictable that young children who see candy/toys/things they like but can't have are nonetheless going to want them," Jana says.
So, remember to view your toddler as, well, a toddler. They're brand new to this big, complex world and their brains are saturated with curiosity and impulsivity. Incessantly barking "no" at them is a useless effort to stifle their natural tendencies.
Save the "no" until absolutely necessary
As a delightfully charismatic blogger at mamaneedscoffee.com, Jenny Uebbing pulls from her experience as a wife, mother, and psychology and theology graduate to create humorous but also deeply insightful posts about everything from motherhood to faith and politics. With four little people under her belt, I knew she'd have something wise (and probably entertaining) to say about overusing "no."
"I find that we have a finite amount of effective negative interactions in a given day, so I tend to save them for stuff that really matters, like safety issues," she said, adding, "and nap time." Because is there any parent to whom naptime doesn't matter? If not for our kids, most definitely for us.
"Save ['no'] for big ticket items like running into the street, hitting your sister, or getting out of bed at nap time," Uebbing advised. That way, it will mean more. If your toddler is being told "no" all day every day, he's not likely to realize that "no, don't stick your fork in the outlet" is more crucial than "no, don't wipe your boogers on the couch."
Curbing our vocabulary to include less of the word "no" and more positive phraseology can make a tremendous difference. "I try to say 'yes' if it's feasible," Uebbing note, after explaining that she has a 2-year-old who is "crazy… [and] puts his three elder siblings to shame in the physical hijinks department." Her wise response? She instinctively does what Dr. Jana suggests and avoids circumstances where she'll be naysaying his behavior. "I try to avoid putting us both into situations where I know I'll be chasing him around swatting him off of things and rescuing valuables."
So the smartest thing we can do with "no" is to save it for when it's absolutely vital. Otherwise, it loses its significance.
Empathize, and turn a negative into a positive
She's a play therapist, author, speaker, parenting expert, and of course, a mama. Brenna Hicks, AKA the kid counselor, whose expertise has been featured in numerous media outlets, blogs at thekidcounselor.com about anything and everything kid related.
"[A] negative statement can easily be turned into a positive one with a few tweaks," Hicks says. "'No running!' [can instead become] 'Walk, please!' 'No hitting!' can be rephrased as 'Gentle hands!'" Often, a parent's first instinct upon witnessing undesirable behavior is to condemn it and that's when a stream of "no" starts flying. Instead, the alternative desired behavior can be proposed, completely avoiding the negativity.
Hicks also notes the value in providing an age-appropriate explanation as to why certain conduct cannot continue. Simply condemning the action doesn't do much for a toddler but when possible, helping them understand the reason behind the "no" can save a lot of confusion and anger.
Since these emotions play such a major role in children's development, Brenna also suggests acknowledging how not getting their way affects toddlers. "[It's] important to reflect the child's feeling about hearing no," she said. Instead of being frustrated by or punishing their disappointed reaction, we can exemplify empathy by recognizing it. "I know you really didn't want to sit in your car seat and I can see that you're upset about it," for example.
In a nutshell, dig for the positive alternative to "no." Also, provide an explanation when possible, in order to turn discipline into a teaching moment and expand a little one's understanding. And of course, empathize. Acknowledge their emotions and allow them to feel them.
Parent by distraction
What parenting advice could you not seek from a mama of 10? As far as gracefully raising babies into awesome adults, Alicia Hernon has been there, done that, and continues to do so. She and her husband, Mike, have children ranging in age from 5 to 22 and together, the couple hosts their own insightful but also adorably entertaining parenting podcast, Messy Parenting.
Hernon addresses something that parents with toddlers know all too well: the dreaded battle of the wills. But instead of remaining hell-bent on exerting our authority by pulling sharp nos out of the arsenal, Alicia suggests lightening up and employing a strategy her husband refers to as parenting by distraction. "It's not giving in to them and its not digging in your heels. Its saying, 'Hey, look at that squirrel!' And changing the subject." Too often, we become fixated on getting toddlers to yield to our authority when ultimately it serves to do nothing but build tension and prolong tantrums. Sometimes, the smartest answer is to just squash the conflict altogether and move on to something else in the world.
Hernon also recommends giving some thought as to what it is that a toddler really wants. Occasionally, their bad behavior is just a misguided attempt to get something completely appropriate. She cited an example of a time she was at a soccer game and a toddler kept running onto the field. His mother would run after him and drag him screaming back to the sidelines telling him, "No!", only to have him run right back out onto the field again. Finally, the little boy's father stepped in and realized his son was really after the soccer ball he saw getting kicked around. "So this dad got a soccer ball and started playing with his son to the side, off the field," Alicia recalled. "Perfect." It may require more brainpower to determine our toddlers' real yearnings than it does to just tell them no, but it's well worth it in the end if it means a happy kid instead of a tantrum.
Read more:
Raising teens is not a lot different than raising toddlers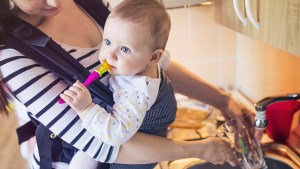 Read more:
Should you sacrifice a clean house to be with your kids?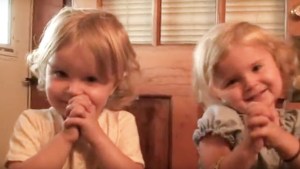 Read more:
Try not to melt watching these twin toddlers recite the Our Father (VIDEO)