After November 1, some religious orders and countries celebrate their own All Saints Days.
While November is traditionally dedicated to the Holy Souls of Purgatory, it is also a month that features multiple celebrations of different groups of saints.
The month begins with the primary feast of All Saints on November 1, but over the centuries various religious groups wanted to celebrate saints that were specific to them and their spirituality. This led to the institution of multiple "All Saints" days in November that focus on the holy men and women honored by a particular group.
Benedictines
The Order of St. Benedict, tracing its roots back to the 6th century, celebrates the many saints of its religious tradition on November 13.
Carmelites
Each year on November 14, the Order of Mt. Carmel celebrates all the saints and blesseds who belonged to their religious tradition that was established during the 12th century.
Augustinians
Follow after the life and example of St. Augustine, the Augustinians celebrate an All Saints Day on November 13. This is believed to be the birthday of St. Augustine and the feast honors the many saints who belonged to the Augustinian family since its founding in the 13th century.
Franciscans
The official Rule of Life of the Franciscan Order was approved on November 29, 1223. In commemoration of this day and in honor of all the Franciscan saints over the centuries, Franciscans celebrate the Feast of All Saints of the Seraphic Order on November 29.
Dominicans
Another religious order that was founded in the 13th century, the Order of Preachers, celebrates the numerous saints from their religious tradition on November 7.
Jesuits
November 5 marks the day of commemoration of all the saints and blesseds of the Society of Jesus, which began with St. Ignatius of Loyola in the 16th century.
Ireland
Besides religious orders, the Island of Saints and Scholars has traditionally celebrated a single day for the saints from their country. This is marked every year on November 6 and includes countless saints, most of whom were locally canonized before the official process was instituted in the 18th century.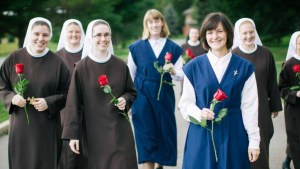 Read more:
Why do monks and nuns wear different colors?
Read more:
What Is the Difference Between a Friar, a Monk and a Priest?