This approach to holiday eating taps into mind, body and soul.
What can God do in your life with one Bible verse a day?
Subscribe to Aleteia's new service and bring Scripture into your morning:
Just one verse each day.
Click to bring God's word to your inbox
So many of us struggle with food — whether it's habitual dieting, bingeing, under-eating, over-eating, or anything in between. The holiday season (which is practically upon us now!) can create food monsters out of many of us because … who doesn't love celebrating good times with good food?
The truth is, however, that food triggers a lot of emotions. We get attached to food and how it makes us feel. But if you work hard to break the cycle and let go of your mental attachment to a food, it can be incredibly freeing (not to mention healthier). So before turkey day arrives this year, let me show you how to take a different approach to holiday eating; you're going to learn to check your emotional baggage at the fridge door by practicing something called "intuitive eating."
Intuitive eating is an approach to eating that involves creating a healthy relationship with food. The goal of eating intuitively is to become an expert on yourself: What gives you energy? What makes you drag? What hurts your stomach? What makes you feel satisfied? Only you can answer these questions and those answers will help you recognize and follow hunger cues and fullness cues.
This practice can also help you break away from obsessing about certain calorie amounts because your body may need different amounts of food depending on the day. For instance, when your workout is more intense one day, you may feel more hungry—so eat! Or if you're in a dreaded hormone shift and you don't have much of an appetite, go with it.
Here are some more guidelines for letting your intuition be your guide to eating:
Ditch the diet
For good. I mean it. Say, "Bye, diet! I don't need you." Extreme dieting tends to result in failure, malnourishment, and often creates a negative food mindset. Instead, focus on eating real foods and creating a balanced, healthy lifestyle.
Fuel your body with nutrients
Stick to five colors a day to help you attain the minerals and vitamins you need. Focus on whole foods from nature such as: fruits, veggies, whole grains, legumes, nuts, seeds, lean animal protein, and dairy. When you fuel your body with what it needs, you eliminate cravings, sugar addictions, and teach your mind to be satisfied.
Recognize and respect satiety
I know this isn't rocket science, but remind yourself to chew slowly and carefully. By doing so, you'll improve your digestion and give your stomach time to release a hormone called leptin, which lets you brain know you're satisfied. Listen to your body's signals so you can avoid binge eating.
Find positive outlets to address emotions
Play a game with your kids, go for a run or workout, drink some herbal tea, meet up or call a friend. Try to relax when you feel like food is getting the best of you; pray, take a warm bath, keep a journal.
Give up on being perfect
Just keeping it real here: it's unfair and ungodly to expect perfection of yourself. Reaffirm to yourself that you will slip because you're human. Develop a plan, try your best to stick with it, and let your mistakes or mishaps go when they happen. Speaking of which …
Stick to the plan
If you're combining your macros (short for "macro-nutrients") correctly as I've shown you (50% carbs, 25% protein and 25% fat) and you're eating five colors a day and getting plenty of water, you have the ability to trust you intuition! It's lifestyle practice that you can always take on vacation with you, use through the holidays, and use permanently. Intuitive eating is ultimately about what you need to fuel your body combined with what feels best for you. All you have to do for a healthier, happier you is tap into your mind, body, and soul.
Read more:
Want a simple formula for healthy eating? Ask a nutritionist's kids!
Read more:
Genetic testing: The nutrition trend that may change the way you eat forever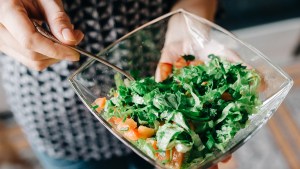 Read more:
The 7-word guide that makes eating less complicated