Kids have a superpower that we shouldn't take for granted.
There's nothing like the healing power of connection. From volunteers to therapy animals, relationships have proven to be vital in improving the lives of the elderly, especially those without family.
Researchers decided to try something a little different when they had ten 4-year-olds move in to St. Monica Trust Retirement Home to spend time with residents who volunteered for the experiment. At the beginning of the six-week experiment, researchers measured the residents' mood, memory, and mobility. Of the participating residents, one-third showed signs of depression and nearly all were at risk of falling. Then came the 4-year-olds.
During the six-week period, both the children and the residents participated in group activities and games designed to engage the elderly residents' bodies and minds. After horsing around with 4-year-olds for six weeks, 70 percent of the residents showed improvement in mood and 80 percent showed improvement in mobility. Kids have a way of teaching us to have fun and delight in life again, and we should never be afraid to take advantage of it.
You can watch clips from the experiment below.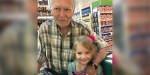 Read more:
4-year-old rescues widower from loneliness


Read more:
Wailing of lonely elderly couple brings police and pasta