If you try to please everyone, you'll end up disappointing everyone -- including yourself.
Need an idea for Lenten almsgiving?
Help us spread faith on the internet. Would you consider donating just $10, so we can continue creating free, uplifting content?
Make a Lenten donation here
Most people who have a lot of responsibilities end up using up every last bit of free time and burning the candle at both ends. The problem is this: when we don't know how to say "no," when we don't know how to set limits for ourselves, we exhaust our own source of interior joy, ending up burnt out, anxious, constantly tense, and ill-humored. But these situations aren't as inevitable as we may think. We are the ones who decide how we want to live our life.
An endless question: What do they expect of me?
If you try to please everyone, you'll end up disappointing everyone. Low self-esteem in leaders and caregivers is a time bomb for their own health and also for those who work with them. It's a problem that goes beyond the workplace, too.
What do they expect me to do? In reality, if we knew all the expectations that others project onto us, we would always be frustrated and overwhelmed. Other people make all kinds of demands on us, making us feel guilty for not responding to what they want and for not having all the right answers all the time. And although they may not be expressed openly, these expectations can become a form of pressure on the person in charge, who will eventually become discouraged at never being able to satisfy the unending and suffocating demands.
It often happens that fear of failure causes many leaders to take on more commitments than they can really handle, and that creates more tension and wears them down even more.
It's important to remember that we don't have to do it all or please everyone. And if we want to give the best of ourselves to others, we should protect the source of our joy and our peace. We should protect our intimacy and our time with others and ourselves.
The traps of low self-esteem
In a culture that rewards success and overachievement, people feel like they have to run. It doesn't matter where to, but they have to run because they're so busy and there's so much to do. What's so important, really? Sometimes we don't even know how to answer that question, because we don't stop to think about it in depth.
Low self-esteem, this fear of letting others down, can lead us to say yes to everything and can keep us from saying no, even when we should set limits for the sake of our health and our family time. The need to be recognized, to feel useful and powerful, can make us fall into the trap of not saying no to others' demands and so we end up neglecting what is most important.
Many people think they are tough enough to handle an overflowing plate all the time, but they end up destroyed without even realizing it, until it's too late. But what kind of life is it when we have no time to rest, pray, think peacefully, or take care of the ones we love?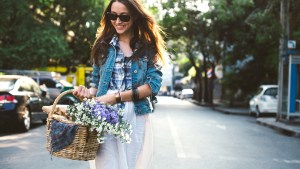 Read more:
40 habits of calm, centered women
Recognize and accept your limits
Grateful people are the happiest, and of course they don't live in la-la land, but they know their limits, accept them, and focus on what they do have.
Today, people put too much responsibility on their own shoulders because they are unable to accept or love their own limits. Anyone who tries to live beyond his limits will soon realize that he has lost his interior balance. Of course, it's also true that some people set too many limits, and end up never discovering their own capabilities because they put up too many walls. But the trend in our society is more in the other direction, of believing that "If I want to, I can." There are times that you won't be able to, and life itself will set limits that you were not able to set for yourself.
There are also people who don't accept others' limits, invading their privacy or wanting to impose their own points of view, as if it were their right, forgetting the limits that the other person had set.
Rediscover your own center
If you are able to stay centered, you'll spare yourself all the trouble that comes from not setting or respecting your limits. Stay focused on what's truly important and you won't be living by someone else's rules, letting someone else call the shots.
When external pressure and other people's judgments and opinions condition us too much, we can lose our own uniqueness, our unique way of being, and get lost in the endless sea of outside pressures that want to "measure us" a certain way.
Being master of yourself means not losing your interior freedom, acting with sovereignty over your own self. It's similar to Jesus' statement: "No one takes my life from me, but I lay it down of my own accord." It's about having ownership over my own circumstance, having agency … being the protagonist.
We need interior freedom to be able to say "no" in peace, without having to defend or justify ourselves. When we have to justify our limit, we've already given authority to the other person to move past our limit. The other person doesn't have to approve or understand my "no," because what the other person thinks is his own business, and I shouldn't worry about what he does with my decision not to give in to his pressure.
The humility that saves us
The answer to the problem of limits is to accept that I can't do everything, and that I shouldn't do everything. When we get angry at others because of how tired we are or because we didn't want to do something, the real person to blame is us, because we didn't know how to define and defend our limits. It's not their fault; they will always be asking for things, anyway. We need the humility and discernment to choose what we should do ourselves and what we should delegate to others so that we can be more free.
Humility is about recognizing the truth about ourselves; it's about living in the truth of our littleness and our limitation, with the security of what we really are, without wanting to be what we're not. That's why the greatest people, the ones who are secure in who they are and also secure about their limits, are often humble. They don't need to please everyone, because they don't have to prove anything. They know who they are are they live with peace and joy.
Read more:
How to build more silence into your busy daily life
Read more:
How to give up control and find peace in surrender
Read more:
Saying No to the Need-Needy
This article was originally published in the Spanish edition of Aleteia and has been translated and/or adapted here for English speaking readers.