Papieska Kremowka is a creamy delight that's easy to make.
Need an idea for Lenten almsgiving?
Help us spread faith on the internet. Would you consider donating just $10, so we can continue creating free, uplifting content?
Make a Lenten donation here
Pope St. John Paul II usually ate a simple, early lunch and dinner, since his day began at 5:30 a.m. His first meal was the most important one: the spiritual meal of the Holy Mass. Afterwards, he ate a small breakfast, consisting of tea with bread and butter. For lunch, he always began with a bowl of soup, usually followed by modest servings of meat with a generous helping of vegetables, and ending with fruit. At dinner, he ate leftovers from lunch. Everything was carefully prepared by Polish nuns.
However, from time to time he indulged his sweet tooth and nostalgia for his home country by eating a dessert made famous under the name Papieska Kremowka ("Papal" Cream Cake), a sweet made with puff pastry filled with cream. During his time as pope, John Paul II told the story of how, when he was young, he had organized (together with his friends) a cream-cake-eating competition to celebrate their high school graduation. Karol (his name before becoming pope) managed to eat 18, but even so, he wasn't the winner.
Here's the recipe for Kremowka:
Ingredients:
2 sheets of puff pastry dough
2 cups of milk
4 egg yolks
4.4 ounces of sugar
1.8 ounces of cornstarch
1 teaspoon of vanilla extract
Instructions:
Bake the two sheets of puff pastry (the frozen kind you can find at the supermarket — just follow the instructions on the package), or buy pre-baked, ready-to-use pastry sheets.
To prepare the cream, heat the milk in a pot, and add half of the sugar and vanilla. In a separate bowl, sift the cornstarch and remaining sugar to avoid lumps, and add the yolks, mixing without beating. Pour half of the warm milk over the yolk mixture, mixing well.
Heat the rest of the milk. When it boils, pour in the milk-and-egg mixture, mixing with a whisk to avoid the formation of lumps. Cook for one minute, mixing well so it doesn't stick. Remove from heat and let cool.
When the pastry cream has cooled, spread it over one of the baked sheets of puff pastry, and then cover it with the second sheet. Powder it with confectioner's sugar, cut, and serve.
Some people also add a touch of rum or heavy cream to the pastry cream, to give it more flavor, but John Paul II liked the more traditional version without the extra ingredients.
Remember what he himself said during the 17th World Youth Day: "Just as salt gives flavor to food, and light illuminates the shadows, so also holiness gives full meaning to life."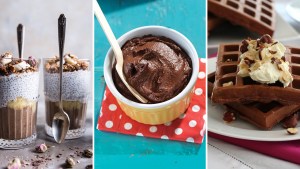 Read more:
These 3 recipes will help you get a healthy dose of chocolate
This article was originally published in the Spanish edition of Aleteia, and has been translated and/or adapted here for English-speaking readers.