By helping your child understand the rules you can avoid the need for punishment.
In recent years, European countries such as Denmark, Sweden, and Scotland, have forbidden the use of any violence towards children, including spanking. When we use corporal punishment on our children, they learn to obey out of fear; as a result, the theory goes, the bond established between the parent and their child begins to weaken, undermining trust and the pleasure of being together. Shouting louder could be seen as an alternative to corporal punishment, but it isn't really a solution either, and loses effectiveness in the long run.
Specialists these days stress the importance of truly communicating with our children in order to understand what they are feeling and help them understand what we expect from them. French psychologist and author Audrey Akoun sheds some light on the topic: "Punishing our children" without real communication "allows us to release our tension, but otherwise serves no real purpose," she points out. "We must make our children aware of their actions and give them the opportunity to make reparation. Saying 'You are unbearable!' or 'You are a brat!' is really tough on the child, who is not being given the opportunity to understand or remedy what he or she has done wrong."
In the light of these ideas, here are some great tips offering alternative ways of handling — and, as much as possible, averting — discipline problems.
1. Understand their needs
When children behave badly, often they're unconsciously trying to tell us something; either they are suffering or they have a need that isn't being met. Find out what's causing this behavior. If they can't sit still or often break things, perhaps they need more time to run around and let off some steam.
2. Slot in some one-on-one time
Try and spend more time with them one-on-one, even if it's only 15 minutes. Not only will they feel valued, they can also take advantage of this quality time to share with mom and dad their needs, their thoughts, and their difficulties.
3. Ease your own tensions
When we feel off-kilter, or emotionally fragile, our problems can affect our children. This will only make them act up even more than usual. Take a step back and work on dealing with our own problems, so we are able to keep them under control and not have them spill over too much into the lives of our kids. We can also help our children identify and work on their own weaknesses, letting them know how they are behaving by using a system of magnets, stickers, or drawings on the fridge. On the days when all is going well, we can put up an image of sunshine, and on rougher days, a cloud or rain.
4. Encourage them to speak about their problems
"You can't stop hitting your sister. That's not acceptable. What's going on? Is there something you're upset or angry about … ?" If we encourage them not to bury what's bothering them, we open up discussions to how they are feeling and their way of reacting, and we can then use this knowledge to anticipate and deal with any further bursts of anger.
5. Are we being clear?
We should get in the habit of asking ourselves, "What am I expecting?" and "Have they understood properly?" Children take things very literally, and what is perceived as disobedience might be a misunderstanding — or, they may be taking advantage of some loophole they think they found in the way we told them what to do, or in how we laid the rules down. Children will understand the instructions a lot better if they have been expressed clearly, and we also need to be careful not to encourage budding sophists by being vague and/or letting them get away with disobeying the clear intention of their parents. A child needs to hear the rules over and over before they actually sink in.
6. Give our children the opportunity to make things right
Whether it's a broken plate or an inappropriate gesture, encouraging our children to take responsibility for their mistakes —by sweeping up the pieces of the plate, for instance, or by asking their friend to accept their apology — is a good way for children to learn about the meaning of forgiveness (it doesn't mean you are totally off the hook) and about earning back others' respect and friendship.
7. Taking time to calm down
Instead of saying to your children, "You're grounded, go to your room!" you can suggest going somewhere peaceful to calm down and take some time to breathe. If we are the ones loosing our cool, telling the child to come back in an hour can help us to clear our heads and deal with them more justly and intelligently. It's a learning process, in which the child can take a "time out" and learn to channel their emotions. For smaller children, putting on some gentle music is a great way of establishing a calming ritual; hearing the calming music will help them understand that it is a moment of calm.
8. Give them a hug
Very often, these little tantrums or violent outbursts are just a sign of our children needing affection. A short explanation can be helpful: "Do you remember earlier on? You were angry, and now I'm giving you a hug. Next time, just come straight to me for a hug."
9. Keep the rules simple
Listing no more than three essentials in any given area will simplify a parent's expectations and give the child a better chance of being able to meet them. Plus, remember (as mentioned above) that to make things even more efficient we need to make our rules clear. For example, "Tidy your room" is way too general. We all have a very different vision of the world, so "tidy" can mean very different things for an adult and a child. So, "I want you to put your dirty laundry in the hamper after your bath, put away your toys at the end of the day, and keep your bed made when you're not in it," are more specific.
10. Leave room for negotiation
One way of doing this could be that, when our children get home from school, we ask them in what order they'd like to do their homework, snack, play, and wash. Once the schedule has been established, they are not in a position to contest the rules, as they were the ones who set them.
11. Set a good example
By tidying up after ourselves, making our bed, or excusing ourselves when we go too far, we're setting a good example. Children — especially adolescents — are very sensitive to hypocrisy and inconsistency.
12. Offer a reward
Create a chart using stickers and colors that sums up the week overall and that positively reinforces behavior. When our child behaves well, we can put on a green sticker, and if they misbehave we can use a red sticker. At the end of the week if there are more greens than reds, we can offer our child a small present or a "kindness" voucher — like extra long cuddles with mom and dad, watching a cartoon, or a trip to the ice cream parlor.
13. Use humor to ease the tension
With respect and humor we can de-dramatize situations and reduce aggressiveness. But be careful: humor does not mean mockery. Don't try and imitate your children by mimicking or parodying them; that will only humiliate them, which is counterproductive.
Read more:
How "Connected Parenting" changed one mom's approach to discipline — with great success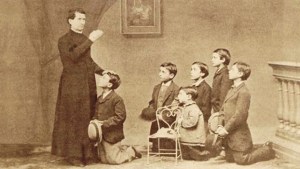 Read more:
7 Saintly tips on how to discipline a child, from Don Bosco
This article was originally published in the French edition of Aleteia, and has been translated and adapted here for English-speaking readers.