It's easy to forget the humanity of our little ones under all that peanut butter.
As I was idling through Facebook the other day, a link caught my eye. With only one almost-2-year-old home with me for most of the day, I've been re-learning how to keep one toddler entertained and out of trouble. So of course I was interested in a blog post that promised to be "An Easy Peasy 2-Year-Old Routine That Works Every Time."
Then I clicked on the link.
Let's say it was not exactly "easy peasy." It was, in fact, a highly structured schedule that divides the day into 30-minute to two-hour increments, with no time set aside for "writing a post" or "practicing spin hooks" or "removing a Lego from a toddler's nostril." So aside from the fact that structured schedules don't work for me, this just wasn't going to work for me, period.
However, what I did find helpful were the first three items on her checklist on the needs of a 2-year-old. Behold:
Emotional help — There are big emotions going on at this age. You'll need to both hear them out, make them feel understood, and teach them how they are allowed to express their emotions and how they are not.

Sleep — Two-year-olds still need a nap. They'll try to pretend they don't and will even go a few weeks at a time where they lay in the crib talking to themselves instead of sleeping. Persevere, don't give up, and they'll nap again soon.

Routine — Never is a routine more helpful than when your child is growing so much developmentally. Again, you don't have to be hampered by the clock, but find something that works and stick with it.
This is so true. Right now, I'm struggling mightily with Isaac and his car seat. I have to make the hour-long round trip to and from the older kids' charter school twice a day, and the poor buddy is stuck in his car seat the whole time. But while he used to scream every afternoon, he doesn't now. He protests a little, but mostly just looks at me with sad eyes.
I have two theories about this change. First, we were originally carpooling, so I wasn't driving every day. On the days when I picked up, I would keep Ike awake so that he would nap in the car instead of crying. But this never worked well — he always woke up when the kids got in the car, which had the dual effect of cutting his two-hour nap to 30 minutes and leaving him cranky and exhausted the rest of the day.
After the first few months, I learned that his nap is crucial regardless of whether or not we'll be in the car later. Quality sleep is essential for toddlers, and they don't get it in a car seat. So I re-instituted the daily nap after lunch routine, and found that he actually cried less in the car if he'd slept well first.
The second thing I did is stop trying to either ignore the screaming or placate him. Instead of frantically handing him every toy I brought with us or turning the volume up on the radio, I started actually responding to him. When he lets out a howl and starts pulling against his car seat straps I'll say something like, "I know, buddy, this is stinky. I hate being in the car for so long too. But we're almost to the kids school and then we'll go straight home."
When he's really upset, I make a point of turning around at traffic lights and making eye contact to express empathy. It doesn't always make him happy, but it seems to calm him a little. He knows he's being heard now, instead of being ignored.
It's easy to forget that 2-year-olds are little people, not adorable hugs covered in peanut butter that we have to clean, feed, and entertain. Like all people, they want to be responded to humanely. And as parents, our job is to do that — even if we can't fix the situation, we can hear their pain and acknowledge it. Even if it's covered in peanut butter.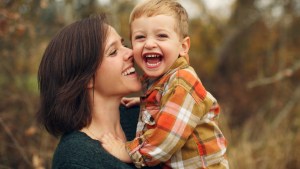 Read more:
4 Expert moms weigh in on how to say "no" less often to toddlers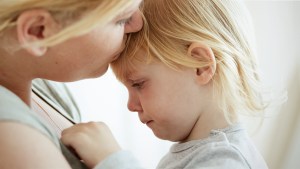 Read more:
How to defuse a child's tantrum with one question
Read more:
Raising teens is not a lot different than raising toddlers