Muslim leader in Rome for an event co-hosted by the Sant'Egidio Community
Need an idea for Lenten almsgiving?
Help us spread faith on the internet. Would you consider donating just $10, so we can continue creating free, uplifting content?
Make a Lenten donation here
Pope Francis received Ahmed al-Tayeb, the grand imam of the Al-Azhar mosque in Cairo, in the Vatican on Tuesday, according to a report from the Holy See. This was the third meeting between the two men, all of which have taken place in a period of less than 18 months.
The first meeting between Pope Francis and Ahmed Al-Tayeb took place at the Vatican in May 2016. This meeting marked the formal resumption of relations between the Holy See and Al-Azhar, after a unilateral rupture of relations in 2011 by the latter. This May meeting enabled the revival of the dialogue between the two institutions, particularly with the participation of Cardinal Jean-Louis Tauran, president of the Pontifical Council for Interreligious Dialogue, at a seminar in Cairo last February.
The second meeting—and a key moment of the relationship between these two religious leaders—took place on April 28, 2017, when Pope Francis visited the premises of the mosque-university in Cairo. Before an audience of religious representatives, he delivered a balanced and uncompromising speech calling for the education of younger generations and for the rejection of all violence in the name of God as a "falsification."
Ahmed Al-Tayeb is in Rome now to participate in the third in a series of events called "East and West: Dialogues of Civilizations," co-organized by the Sant'Egidio Community and Al-Azhar. This conference, which is also being attended by Cardinal Tauran, aims to find new paths of coexistence, after a century marked by the end of colonial empires and by globalization. The preceding event took place in May 2016 in Paris. On that occasion, the Grand Imam of Al-Azhar went to the memorial of the November 2015 Bataclan bombing.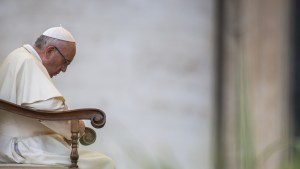 Read more:
Pope denounces "homicidal madness that abuses the name of God"