They made a lot of noise in the streets of London to draw attention to silent health issues.
You can get Aleteia inspiration and news in your inbox. Our specially curated newsletter is sent each morning. The best part? It's free.
Sign up here
Dressed from head to toe in their Sunday best, 1,000 bikers rode through the city of London to raise awareness for men's mental health and prostate cancer in honor of World Mental Health Day.
The conversation surrounding mental health discrimination has been gaining more and more traction, but by and large men are still underrepresented; there still seems to be an unfair pressure placed on men to keep their struggles and vulnerabilities hidden for fear of being seen as "un-masculine." In the UK alone, the number one cause of death for men under the age of 45 is suicide. That's why these bikers chose to make a scene to declare to the world that there is nothing weak or unmanly about admitting your struggles and asking for help.
One of the participants explains the connection between mental health and prostate cancer, saying, "Men aren't very good at looking after themselves. They don't like to talk about their worries and their troubles, so they're not the sort of people to put their hand up and say, 'Please check my prostate.' And they're also not the person to turn around and talk their friends and say how they feel." But we need men to reach out if anything is going to be done to help.
Henry, another rider, talks about his on-and-off battles with depression and anxiety. "When you're riding, you can only think so far ahead. It's like the next corner or breaking or accelerating. So it's a really good way to clear your head and focus on one thing for while, rather than having a million things rushing through your head."
The participants said the noise of one thousand motorcycles rivals any other event of its kind they've experienced. Hopefully, the commotion will encourage men to raise their own voices and join in this conversation that we so need them to be a part of.
You can watch more in the video below.
Read more:
Brave woman emails her colleagues about taking a "mental health day"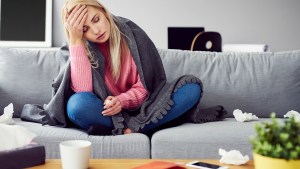 Read more:
How your physical health can be traced back to emotional traumas