Day 5
St. Louis, may those around us remember what your daughter St. Therese wrote: "A word or a smile is often enough to put fresh life in a despondent soul." Give strength to the loved ones and caregivers of those who struggle with mental problems.
Why are you cast down, O my soul,
and why are you disquieted within me?
Hope in God; for I shall again praise him,
my help and my God. (Psalm 42)
O Lord, through the intervention of St. Louis Martin, lift up those who are suffering from depression, anxiety, dementia, and other mental problems and lead them out of the darkness and into Your light.
Our Father
Hail Mary
Glory Be
Amen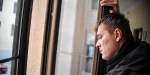 Read more:
5 years ago today, feeling like a failure of a man, I tried to kill myself