Day 8
St. Louis, you trusted in the Lord although it must have seemed at times that He was silent in the face of your trials. May we always trust that the God of love can never forget us, even when we feel most forgotten.
But I have trusted in thy steadfast love;
my heart shall rejoice in thy salvation.
I will sing to the Lord,
because he has dealt bountifully with me. (Psalm 13)
O Lord, through the intervention of St. Louis Martin, lift up those who are suffering from depression and lead them out of the darkness and into Your light.
Our Father
Hail Mary
Glory Be
Amen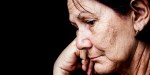 Read more:
Give thanks for my mental illness? You can't be serious