You don't have to be a perfect parent to your children to have a better relationship with them.
Because there's no such thing as a "perfect" parent-child relationship, psychologist Javier Fiz shares how to build strong bonds with our children, so that trust and healthy self-esteem can flourish.
Here are his three simple tips:
1. Watch them
Don't let hasty assumptions cloud your understanding of your child's interior world. Observe their way of acting and behaving, because that will tell you a lot about their feelings and their attitude in the different situations they face every day. It's not just a matter of watching what they do, but of trying to decipher what they're telling us through their actions.
If we are able to read the feelings that they are projecting in each moment, we'll be able to help them recognize those feelings, handle them, and form emotional self-control.
In this sense, it's important for us to accept and teach them that all emotions are valid. There are no good or bad emotions, just pleasant and unpleasant ones.
(Emotions don't have the same moral value as actions. For example, they may feel terribly angry … but that emotion is not necessarily a bad thing: what matters most is what they choose to do with that emotion.)
2. Listen to them
We need to be paying attention so that we can understand what our kids are telling us with their words, their body, their facial expressions, and their moods. This means we have to pay full attention to them. Stop thinking about other things or multi-tasking (put the cell phone down) and look them in the eyes.
Listening to them doesn't necessarily mean giving them advice or telling them what they have to do. Often, they just want us to know how they feel. Listening to them opens the door to communication with them. That's how we'll be able to know what's going on inside their heads, without correcting, directing, or judging.
(This is not to say that you can't correct your child — it's just that there is a time and a place for everything, and there are times when the right thing to do is just to listen and understand.)
3. Share your life with them
It's important to do things together. Teaming up for housework, school activities, or just spending leisure time together matters. Go on outings with them, play table games, listen to music together, talk and share over the dinner table, take walks together …
It's also good for us to be present in the little and great moments of their lives: a sports match, a day at the park, a birthday party … When we share moments like this, they develop a sense of belonging, and we teach them the importance of giving and receiving affection. These are experiences that create deep memories that they will keep for the rest of their lives.
The truth is, nothing can replace the child's need for time spent with his or her parents. Material gifts and parent-free activities, no matter how cool, are not replacements for shared time in a family.
Article written in collaboration with Javier Fitz Perez, a practicing psychologist and professor of psychology at the European University of Rome, delegate for International Scientific Development, and head of the Scientific Development Area of the European Institute of Positive Psychology (IEPP).
Read more:
Young children spend more time on small screens, less time talking to parents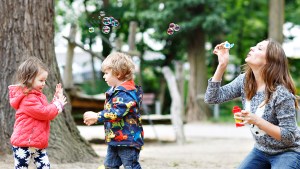 Read more:
The secret to building a great relationship with your kids
This article was originally published in the Spanish edition of Aleteia and has been translated and/or adapted here for English speaking readers.