"Christian, remember your dignity."
Living in the world that we do, we can often forget about our God-given dignity. It doesn't matter who we are or how many "friends" we have on Facebook; God love us regardless and continually calls us up from our miry mess.
One saint who often wrote about our dignity was St. Leo the Great. He was a masterful leader of the Church and a wise pastor. Pope Benedict XVI said that he was, "truly one of the greatest Pontiffs to have honored the Roman See."
Here are five quotes from his writings that highlight the beauty we all have as children of God and how that dignity should be preserved by a life united to Christ.
Christian, remember your dignity, and now that you share in God's own nature, do not return by sin to your former base condition. Bear in mind who is your head and of whose body you are a member. Do not forget that you have been rescued from the power of darkness and brought into the light of God's kingdom. 

Through the sacrament of baptism you have become a temple of the Holy Spirit. Do not drive away so great a guest by evil conduct and become again a slave to the devil, for your liberty was bought by the blood of Christ. 

In the unity of faith and baptism, therefore, our community is undivided. There is a common dignity, as the apostle Peter says in these words … But you are a chosen people, a royal priesthood, a holy nation, a people set apart. 

For all, regenerated in Christ, are made kings by the sign of the cross; they are consecrated priests by the oil of the Holy Spirit, so that beyond the special service of our ministry as priests, all spiritual and mature Christians know that they are a royal race and are sharers in the office of the priesthood.

We have solid ground for a common rejoicing; yet there will be more genuine and excellent reason for joy if you do not dwell on the thought of our unworthiness. It is more helpful and more suitable to turn your thoughts to study the glory of the blessed apostle Peter. We should celebrate this day above all in honor of him. He overflowed with abundant riches from the very source of all graces, yet though he alone received much, nothing was given over to him without his sharing it.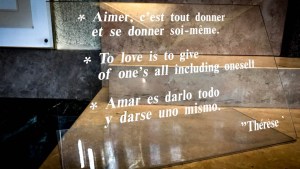 Read more:
10 Quotes from St. Therese that will lift up your weary soul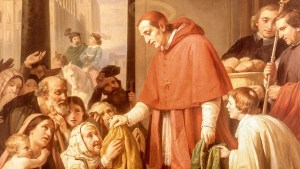 Read more:
5 Inspiring quotes from St. Charles Borromeo