This Instagrammer has a great way to remind us to laugh at ourselves.
Not every photo is "Instaworthy," as most millennials can tell you. In our culture, the way we present ourselves on social media has become equal to our identities; our sense of social obligation to present ourselves as happy, beautiful, put-together individuals trumps any obligation to present ourselves as we are.
Michelle Liu, founder of the popular Instagram account Chinventures, has developed a funny way to bring the humor and realism back to social media. "Chinventures" is a travel account, but, instead of posting perfectly staged photos of herself in various destinations, she posts a "chinning" selfie — one shot from a low angle that emphasizes the chin sags most people dread about themselves.
"Strangers notice me chinning," she said. "Some appear shocked, others confused, but across the board from my experience, they are usually entertained." Michelle began chinning in middle school as a way to entertain her friends, but this experience has taught her a bigger lesson about embracing her own quirkiness and learning not to take herself too seriously.
She's even gotten others to join in the fun!
The account's goofy goal is to remind us to laugh at ourselves and to present ourselves the way we truly are. This, when you get down to it, is at the heart of humility. In learning not to take our reputation so seriously, we gain freedom from others' opinions of us and freedom for pursuing God's glory alone.
Hopefully, the next time we worry about others' opinions, we can take a tip from Michelle and embrace the messy, the imperfect, and, of course, the silly.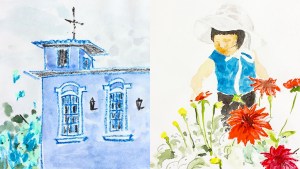 Read more:
Long-distance grandpa shares life lessons with grandsons through Instagram drawings (PHOTOS)
Read more:
These Catholic Instagram accounts that show beauty really will save the world