There's something else they should learn first.
I've become increasingly uncomfortable with the way I try and solve my children's spats and quarrels. It's a pretty set formula, one that I've been using for years — I listen to the complain from both sides, without letting the other side interrupt. Taking into account temperaments, history of behavior, and current level of innocent indignation (because experience tells me that the greater the outrage, the greater the possibility of guilt), I try and determine who owes who an apology.
Spoiler alert: It's usually both of them. And they're usually both coerced into giving each other grudging, meaningless apologies before being sent along their merry way, only to repeat the performance in a matter of hours (or minutes, depending on the day).
This method yields results that are … less than desirable. Basically, their relationships never change or improve and we are all stuck in an endless cycle of bickering and frustration. So I was very interested when I read this post at Motherly about teaching kids responsibility in every area of life — including their relationships with others.
When your daughter hurts her little brother's feelings, don't force her to apologize. She won't mean it, and it won't help him. Instead, listen to her feelings to help her work out those tangled emotions that made her snarl at him. Then, once she feels better, ask her what she can do to make things better between them. Maybe she'll be ready to apologize. But maybe that will feel like losing face, and she would rather repair things with him by reading him a story or helping him with his chore of setting the table, or giving him a big hug. This teaches children that their treatment of others has a cost and that they're responsible for repairs when they do damage. But because you aren't forcing, she's able to choose to make the repair, which makes it feel good, and makes her more likely to repeat it.
I'll admit that I read this with a little skepticism. I don't like the idea of fostering the notion that apologies are okay to forego because it feels "like losing face"; that's not the kind of interpersonal dynamic I want my kids to learn. I want them to learn that recognizing and admitting wrongdoing is essential not just for maintaining relationships but for growing in virtue and goodness … but that's hardly what I'm teaching them when I force them to mutter meaningless apologies before stomping off.
I think that's because I'm missing the key ingredient that the article mentions. I listen to who did what, but I don't listen to why. In fact, I often cut my kids off when they go into "why" because it quickly devolves into an endless battle of who's the meanest meanie-head.
But maybe taking the time to listen to my kids individually, away from the heat of battle, would help both me and them to see and understand the relationship dynamics and find a way to change them. That might be a lofty goal, but having those conversations will include lots of teachable moments. Like helping  my kids learn how to identify their emotions, and teaching them that being hurt isn't something they can (or should) ignore, but lashing out to hurt back isn't the right way to handle their emotions.
Likewise, giving them the opportunity to repair the damage they do when they hurt each other is a tangible way to start working on the concept of taking responsibility for their actions, which is a central part of admitting wrongdoing. After all, if they don't learn that their actions have real consequences, then teaching them to apologize is pointless. An apology is meaningless if they don't understand why what they did was wrong and how they can make it better. That's what true responsibility is all about, in relationships and in life.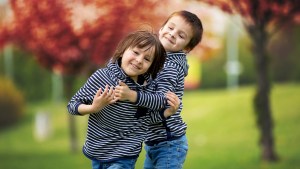 Read more:
When siblings fight, should parents intervene?
Read more:
5 Ways to Bring Peace to Your Home — Even With Kids