A skin care expert shares her tips for healthy skin that reflects your interior beauty.
I'm really into beauty, and I'm also a big believer that beauty begins on the inside — that our exterior is somehow a reflection of our interior. And I'm not talking about women who are attractive or not according to the world's stereotypes, but about an interior attitude, a disposition of our spirit to bring the best out of each of us.
Let's remember that the face we have is the only one we're going to get. This is the face that we will show to the world and reveal ourselves to others. And I'm not talking about slapping on a few pounds of makeup to try to defeat the reality of time, but of knowing how to treat our face with the dignity it deserves.
Facial care is one of the most important personal hygiene habits we have, and it should start at a young age with an eye toward prevention. You don't have to be a millionaire who buys the most expensive products on the market; it would do you little good anyway to have the latest and greatest if you don't now how to use it properly.
There are many natural products that can help you to keep our face looking healthy and radiant, and the best part is that they are very affordable. Because I really enjoy beauty and cosmetics, I studied cosmetology with a specialization in facials and skin care so I want to share some tips that I learned, and that I myself apply every day.
Facial cleansing
You should wash your face at least twice a day with tepid water and a fragrance-free soap, or with a soap particularly suited to your skin type. A neutral soap is also a good (and affordable) option. For nighttime, I always recommend using a special product for makeup removal. If you don't have one, coconut oil is an excellent option. Apply the oil all over your face and then take it off with damp cotton swabs in upward sweeps to avoid clogging your pores. Then wash your face with water and your soap of choice.
Eye cleansing
We have the habit of applying makeup remover directly to our eyelids and eyelashes, but it can hurt the delicate skin in the eye area. Eye makeup removers are also usually oil-based products, and the oil can get into our eyes.
The best way to take off mascara is to use cotton swabs dipped in coconut oil. Place them directly on top of the lashes and clean them with movements that go from the root outward, not side to side, since the sideways motion can pull out your lashes. You can clean your eyelids in the same way, or with cotton swabs dipped in makeup remover or a small amount of coconut oil.
Using facial toner
Use it twice a day after washing your face. It's very important to choose the right kind of toner for your skin. If your skin is dry or sensitive, you'll be better off with refreshing toners that have no alcohol in them. For oily skin, astringent toners with antiseptic properties and alcohol are a good choice.
If you can't afford a toner this month, mineral water as a refreshing lotion is a great option. Just put it in a spray bottle, stick it in the fridge, and use it whenever you need it after your normal facial cleansing routine.
Chamomile water is also a great natural antiseptic. Use the one that best suits your skin, but use something. Toner is what will balance your skin's pH after cleaning, and it will help keep your pores closed. It also gets rid of any dirty residue that didn't come off in the normal cleansing and it prepares your skin for the creams.
Serums and facial creams
Sometimes we aren't sure which to apply first: serum or moisturizer. After letting the toner dry, start with the most liquid product and then move toward the thicker product. For example, if you apply a liquid product like vitamin C, start with that. Then move on to serum, and then to the moisturizing cream.
So the order is: liquid, serum, cream.
Each product is applied only after the previous one has been absorbed, which can take about three minutes between applications. Apply all of them with gentle, upsweeping movements and in small quantities. When applying cream to your neck and bosom, day and night, apply with downward sweeps from the chin to the clavicle.
Day and night cream
Be careful not to use the same cream for day that you use for night. Each cream has its properties and is for different purposes. Day creams protect and moisturize; night creams repair and have more complex ingredients to restore the skin. That's why night creams are usually more expensive than day creams.
Eye cream
Eye cream is applied twice a day with the ring finger on the bone that surrounds your eye — never closer than that — with small dabs. Eye creams and gels tend to migrate toward the eye, so if you apply them too close, they will end up irritating your eyes. Also, the skin around the eye is so delicate that it's best not to touch it too much.
What if you have bags under your eyes? Apply with small touches going from the outside of the eye toward the inside, not in the other direction, to stop some of that retention. Those who do not have bags under their eyes should apply in the opposite direction, from the inside of the eye toward the outside corners. This stimulates the skin and gradually reduces crows feet.
Sunblock
Many women think the sunblock in their moisturizer is enough for the whole day, but that's not the case. The last step in your morning beauty regimen should be to apply sunblock (before you put on your makeup). There is no need to go higher than 30 SPF, but do choose a wide-spectrum formula that blocks UVA and UVB rays.
If you're feeling lazy and you don't want to bother with your whole makeup routine, at least wash your face and put sunblock on. Never stop using it, whether you go out or stay in.
Exfoliation
Once or twice a week, exfoliate your skin, using a product that suits your skin type. If you're short on funds, you can make your own exfoliant out of granulated sugar with oatmeal and lemon juice.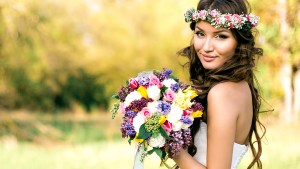 Read more:
A natural skin care and hair guide for brides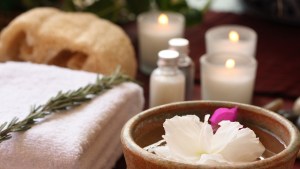 Read more:
Transform your bathroom into a sanctuary for self-care
This article was originally published in the Spanish edition of Aleteia and has been translated and/or adapted here for English speaking readers.