His photo of his baby boy's tiny hand evokes prayers and support on social media
Need an idea for Lenten almsgiving?
Help us spread faith on the internet. Would you consider donating just $10, so we can continue creating free, uplifting content?
Make a Lenten donation here
When San Francisco 49ers receiver Marquise Goodwin caught an 83-yard pass to score a touchdown in his team's victory over the Giants on Sunday, he was clearly emotional.
After blowing a kiss to the sky as he crossed the goal line, Goodwin knelt in prayer as he was surrounded by his supportive teammates.
Only a few hours earlier he and his wife Morgan had suffered the devastating loss of his son due to pregnancy complications, which Goodwin explained in an post to Instagram account after the game:
"Unfortunately, we lost our baby boy due to some complications, and had to prematurely deliver him early this morning around 4 a.m. Although we are hurt, I am grateful for the experience and grateful that God blessed me with a wife as courageous and resilient as Morgan."
His post touched the hearts of more than 160,000 who liked his post and offered prayers and support to the Goodwin family.
https://www.instagram.com/p/BbawTQNjXQg/?taken-by=marquisegoodwin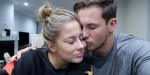 Read more:
Olympian Shawn Johnson shows the world what it's like to suffer miscarriage (VIDEO)