The different colored beads symbolize how prayer can help a soul reach eternal life.
Catholics believe that God can use our prayers to help those souls suffering the "purifying flames" of purgatory, lessening their time there.
The Directory on Popular Piety and the Liturgyexplains,
"The pious custom of suffrage for the souls of the faithful departed … is an urgent supplication of God to have mercy on the souls of the dead, to purify them by the fire of His charity, and to bring them to His kingdom of light and life … 'the Church in its pilgrim members, from the very earliest days of the Christian religion, has honored with great respect the memory of the dead; and "because it is a holy and a wholesome thought to pray for the dead that they may be loosed from their sins" (2 Mac 12, 46) she offers her suffrages for them.'"
There are many different ways to pray for these holy souls, but one unique way is by praying a particular type of rosary.
Holy Souls Rosary
In her reported mystical visions, Bl. Anne Catherine Emmerich was often visited by souls in purgatory and frequently prayed for them. She saw many of them move on to heaven because of her prayers and it confirmed for her the value of prayers for the deceased.
Included in her writings is an account of how the light surrounding the souls in purgatory would change from dark to white, corresponding to their journey to heaven. One passage from her private revelation hints at this idea, "I see blessed souls surrounded by a material light, rather white than resplendent, and around them a many-colored glory, an aureola whose tints correspond to their kind of purification."
Inspired by this concept, several companies over the years have produced a "Holy Souls Rosary." Some claim that Mother Teresa used this type of rosary, though there are conflicting stories circulating about this account.
The rosary features beads that start out black in color, then lighten to grey and end in the color white. It represents a soul being purified in purgatory through the prayers of the Rosary, as we trust that God will hear our prayers and relieve the suffering a soul may be enduring.
It is a beautiful sentiment, one that encourages people to pray the Rosary for a specific deceased person. Whatever the current state of the soul is, God certainly uses our prayers and the act of praying for them strengthens our spiritual connection to the faithful departed. We are all members of the Church and can help each other reach the final end for which our hearts long.
Read more:
Benedict XVI's teaching on purgatory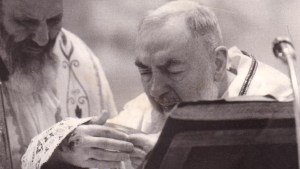 Read more:
When Padre Pio was visited by a soul from purgatory
Read more:
5 Ways to pray for the Holy Souls in Purgatory
Read more:
How to pray the Chaplet of the Holy Souls